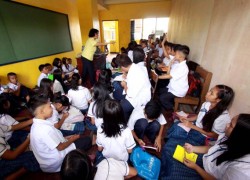 MANILA, Philippines – About 7.2 million children benefitting from the government's conditional cash transfer (CCT) program were among the 21 million preschoolers, elementary and high school students who trooped to public schools during the opening of classes last week.
Social Welfare Secretary Corazon Soliman said the number of enrollees under the CCT program has increased by 200,000 from 7 million in 2012.
Soliman said these children now have higher chances of having a better future.
"I hope they remain compliant to the conditions of the program to avail themselves of the benefits and be able to continue their studies," she said.
The program provides educational grants of P900 monthly to poor families with three qualified children, provided they attend school and incur only three absences per month.
For school year 2012-2013, approximately 98 percent of the beneficiaries attended school at least 85 percent of the time.
"It is important that the household-beneficiaries stay in the program by continuing to comply with its conditions, otherwise they will be removed as beneficiaries. We do not want them to waste the opportunity to have proper education, improved health and better quality of life," Soliman said.
As of May 29 this year, the Pantawid Pamilyang Pilipino Program (4Ps) is being implemented in 1,627 cities and municipalities in 79 provinces in all 17 regions where a total of 3,912,718 households are already enrolled, exceeding the target of 3,809,769 for 2013.
Of the total households, 41.75 percent or 1,633,712 come from Luzon, while 37.81 percent or 1,479,399 are from Mindanao and 20.44 percent or 799,607 from the Visayas.
By Rainier Allan Ronda (The Philippine Star) | Updated June 11, 2013 – 12:00am