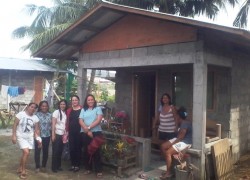 One can see that Norminda and Merlyn's smiles evidently reflected a sense of relief, peace, and deep appreciation to the government as they showed off their newly constructed houses that were funded through a shelter assistance provided by the Department of Social Welfare and Development.
According to Norminda and Merlyn, it took perseverance, patience, and faith to finally put up their houses and get back to their feet. They said that they have learned the value of working with other people in the community and essence of unity itself.
Norminda Bado and Merlyn Malasado were two of those affected by Tropical Storm Sendong that hit Iligan City in the early morning of December 17, 2011.
Their families had to suffer the effects of the storm like having to lose their home which is located just at meters away from the river bank and had to stay in a nearby evacuation center that accommodated hundreds of families that survived the calamity. Having lost all their possessions, their livelihood has been disrupted and their children had to go through an emotional recovery from the trauma.
Like all other hundreds of families that evidently underwent the same bitter experience, Norminda's family and that of Merlyn's were desperate for assistance from the government. Eventually, they were introduced to the Neighborhood Association for Shelter Assistance (NASA) implemented by the Department of Social Welfare and Development (DSWD).
NASA is a shelter assistance that is meant to assist family victims of disaster to acquire decent shelters. It is made available to family-victims whose houses were totally or partially destroyed by either natural or man-made disasters.
Unlike other shelter assistance provided by the government, the NASA, strengthens community organization and encourages community-building. With the help of the local government, the beneficiary-families are organized into an "association" with a maximum of 30 members living in proximity with each other to promote collective action in realizing goals of the project.
In the group, they are mobilized to elect their own officers and identify their own committee that shall canvass, market, and purchase their construction materials for their homes, and monitor their shelter construction. They shall also hold regular meetings to identify and discuss issues and concerns and difficulties encountered in the implementation of the shelter project and work out solutions for these at their level.
Moreover, the association is also encouraged to put up Shelter Maintenance Fund to which they can contribute for a member's need for house repair due to subsequent disasters through a form of loan as agreed by the other members of the association.
Each family that is a member of the association is provided with P50,000.00 for the construction of their houses and is paid P215.00 daily by the DSWD as they construct their own houses.
All of these features were gone through by Norminda and Merly's association and it proved a sense of "bayanihan" for all of them.
"Grabe gyud akong kalipay. Nakabalik mi sa among mga tiil, nakatukod mi sa among balay, ug nakahimo kami ug asosasyon nga makatabang kanamo isip usa ka komunidad. Salamat sa programa nga NASA. (I am overjoyed. We are now back on our feet, we now have a house of our own, and we even have an association that can help us as a community. My thanks for NASA.)," says Merlyn.
Today, Norminda and Merlyn's families along 533 other families are now living in comfortable homes in Iligan City constructed through community participation, unity, and group determination.
Written by Charmaine P. Tadlas, Regional Information Officer