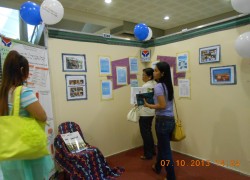 In  line with the celebration of the 24th National Statistics Month with the theme "Statistics that Matter to Every Filipino",  The Department of Social Welfare and Development through the Listahanan or the National Household Targeting System for Poverty Reduction Unit  was invited to participate in the Statistical Exhibit held in one of the malls in Cagayan de Oro City from October 7-13, 2013.
The theme for this year's National Statistics Month hopes to highlight the  vital role that data and statistics play in the everyday life of a Filipino.
Statistical data from different government agencies were exhibited after it was opened to the public which is one  the highlights of the  week -long celebration. Other national government Agencies who also exhibited their statistical data , products and services includes the Department of Health, the National Disaster Coordinating Council,the Department of Tourism, and the National Statistics Office,
Aside from the exhibit, other activities lined up includes a tree planting activity which will be held in Balulang , Cagayan de Oro City within the week.
As part of advocating Listahanan data ,Mr. Putong had the opportunity to share to the participants the audio visual presentation of Listahanan/NHTS-PR and the Regional Profile.  Copies of the profile were also distributed and a locally produced Listahanan brochure.
The National Household Targeting System for Poverty Reduction (NHTS-PR) or what is now known as Listahanan  is  an information management system that aims to establish a database  of poor households that will become beneficiaries  of social protection programs which is being implemented by the Department of Social Welfare and Development .
Mr. Ian Putong (Regional Field Coordinator) , Ms. Charmaine P. Tadlas (Regional Information Officer), and Ms.  Mitzie Santiago (Administrative Assistant )  represented the Department of Social Welfare and Development Field Office 10 during the said event.  (Mitzie S. Santiago)