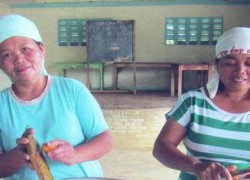 Poverty is never a hindrance to success. One can succeed no matter what his/her status is in life. The state of being in poverty does not necessarily mean all hope is lost.  All one needs is perseverance, hard work, and a crack at that opportunity that would lead you to success.
The Department of Social Welfare and Development, with its three core anti-poverty programs; the Pantawid Pamilyang Pilipino Program, the Kapit-Bisig Laban sa Kahirapan – Comprehensive and Integrated Delivery of Social Services (Community Driven Development), and the Sustainable Livelihood Program (formerly SEA-K) provides just about that opportunity.
The programs provide everyone that opportunity of breaking away from the cycle of poverty. For instance, the Sustainable Livelihood Program of the department aims to deliver opportunities for groups to improve their socio-economic capacity by providing capital seed funds for new entrepreneurs, thus improving their standard of living.
One fortunate group who availed the program's seed fund is Sinuza 4Ps SKA. They were fortunate enough to be a beneficiary of the program.  The group originated in Barangay Sinuza, Tudela, Misamis Occidental. The group is composed if 30 members, all of them coming from marginalized families.
The problem of scarcity and financial difficulties in providing for their family's needs was the force behind their determination to be part of the Sustainable Livelihood Program. The 0% interest rate for the loan scheme was very enticing that is why the group chose to go with the Sustainable Livelihood Program.
They presented their proposal for the project, and fortunately, they got the loan. After receiving the loan, they immediately went to work.  They attended workshops conducted by several agencies, but it was one of the Department of Trade and Industry's trainings which aims to encourage displaced workers and unemployed persons to engage in their own business and learn different skills in crafts amid the global financial crisis. Tea making (out of Luyang Dilaw) it is. The project grabbed their attention. It was something they wanted; something they saw themselves successful in.
The group attended the Luyang Dilaw Tea Livelihood Training last March 2012 held in their own Barangay, and in no time, they were able to muster the craft. Starting with P 6,000.00 as capital, the group tried saving as much budget as possible.
Fortunately for them, the main ingredients for the Tea are native to their area, making them save some of their budget.  Today, the group supply different organizations, stores and municipalities with their products.  Their products are reaching as far as Lanao del Norte, and even the DSWD Regional Office in Cagayan de Oro City.
Their success from scratch is a story worthy of telling.  Now, they are able to provide their families with the basic needs they were unable to provide before. They owe their success to themselves; for dreaming and for persevering.  The DSWD and its programs are only channels for success. It is still ones heart and determination that ensure success.  The DSWD core anti-poverty programs are your partners; your aid in progress and growth.
This success story of the Sinuza 4Ps SKA are among the many success stories the department has encountered. The department is willing to be of help to everyone who dreams of making it big in their own craft. THE SUSTAINABLE LIVELIHOOD PROGRAM IS AT YOUR SERVICE.
Written by Admeela Cyndy E. Padilla II, Project Development Officer, and Marko Davey D. Reyes, Social Marketing Officer