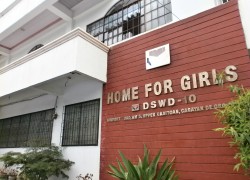 Cagayan de Oro City — Two residential centers of the Department of Social Welfare and Development (DSWD) Field Office 10 here can now provide high standards of programs and services to its beneficiaries.
The Home for Girls and Reception and Studies Center for Children based at DSWD Field Office 10 are the first DSWD-run centers in the country to pass the Level 2 accreditation set by the Standards Bureau of DSWD Central Office.
The accreditation is part of the standardization order of DSWD in order to protect and promote the best interest and welfare of beneficiaries of residential care facilities of the agency; to promote efficiency, effectiveness and accountability in the managing the centers; and to ensure empowerment of centers in delivering programs and services to its clientele.
Administrative Order Number 15 series of 2012 and AO Number 16 series of 2012 issued and signed by DSWD Secretary Corazon Juliano-Soliman provide the ladderized standards of accreditation and rules and regulations on the registration and licensing of social welfare and development agencies and accreditation of social welfare and development programs and services, respectively.
Director Thelsa Biolena of the Standards Bureau handed P10,000 each to the centers through Virginia Cardona, the center head of DSWD Field Office 10.
The Home for Girls is the primary residential treatment facility for female children aged seven to 18 years old who are taken from their family due to various abuses and taken custody by the estate while RSCC is a residential facility for neglected, dependent and abandoned children zero to six years old, including victims of abuse and exploitation, and those with special needs. (Written by Oliver Badel Inodeo, Pantawid Pamilya Information Officer)