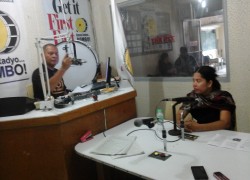 The Department of Social Welfare and Development is once again spearheading the observance of Adoption Consciousness Week Celebration by virtue of proclamation No. 72. With this year's theme, "Legal na Pag-aampon sa Lahat ng Pagkakataon ",the celebration started from February 15 to 23, 2014 .
As part of its advocacy efforts various activities such as radio guesting and Adoption Forum were conducted to raise awareness of the general public on legal adoption. It is hoped that through these activities, more families will open their homes to care and love for children whose biological parents or legal guardian cannot provide permanently for their needs. Going through the legal adoption process will be beneficial to both the child and the adoptive parents.
The Local Government Units and Child Caring Agencies of the Region are also encouraged to conduct advocacy activities in order to make the public be aware and understand that adoption is providing a permanent home or families to children who are abandoned, surrendered, orphaned or neglected.
The Department of Social Welfare and Development is the lead Agency in pursuing programs to make legal adoption easier. (Sean Pamela Balais-SWO II/Mitzie Santiago)