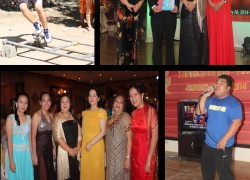 Cagayan de Oro City – With emphasis on coordinated efforts in stepping up to heed to the challenges of the times, the Department of Social Welfare and Development in Northern Mindanao celebrated its 63rd anniversary with the theme, "Kaagapay sa Pagbangon at Bagong Simula".
The week-long celebration kicked-off last January 27, 2014 with a celebratory mass followed by the opening of the Sports Festival that showcased the importance of sportsmanship and camaraderie that would definitely come in handy in promoting Convergence among staffs of the different programs of the department.
The Field Office staff were divided evenly to four (4) groups for the Sports Fest, who in their capacity tried to out play and outwit opposing teams to win in the various ball games. But at the end of the day, the teams still managed to relieve the importance of the games, which was fellowship and solidarity.
The celebration climaxed with the culmination activity (Gala Night) on the 30th of January, 2014 in Cagayan de Oro City.
The celebration was a formal dinner which showcased the different successes of the department, including the acknowledgment of the different partners from the region in the different endeavors in 2013. Retirees and awardees of the field office were also recognized for their undying support and contributions to the department.
Regional Director, Atty. Araceli F. Solamillo, focused her message on the department's thrust to be the country's premiere foundation of social welfare services, taking into account the theme for the celebration which aims at the department's lead on the relief and rehabilitation efforts on calamity-struck communities and impoverished population.
Atty. Solamillo emphasized the big role of the department in stepping up to the challenges of the social needs of the Filipino people in these "ever changing times" we have right now.
The 63rd DSWD Anniversary celebration in the region was a success thanks to the cooperation of the DSWD field office staff and the collaboration of the different committees who prepared for the programs and activities under the guidance of the Regional Director.
Written by: Marko Davey Reyes, DSWD