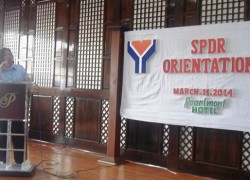 The Department of Social Welfare and Development recently oriented its partners on the Social Protection Development Report which is a vital tool in identifying the risks and vulnerabilities encountered by individuals, families and communities in Northern Mindanao. The tool provides the basis to determine which among the risk or vulnerabilities are the most important for prioritization given the government's limited resources.
According to DSWD Regional Planning Officer, Ms. Linda Canguit, the SPDR is used for the effective planning and budgeting process of government resources, particularly on social protection and social services, as well as for policy formulation and program development.
The SPDR is now being used by the Department in ensuring that all its clientele are able to benefit on social protection and social services.
Photo by Imee D. Canios and caption by Charmaine P. Tadlas, DSWD