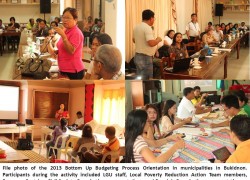 Cagayan de Oro – Three teams will be fast tracking the conduct of the Grassroots Participatory Budgeting Process (GPBP) Project Orientation for 2014 implementing municipalities/cities under the Community-Driven Development (CDD) modality. This is the first activity to signal the implementation proper of the GPBP project in new municipalities and cities in Northern Mindanao.
Three (3) Teams composed of Regional Project Management Office staff from the Kapit-Bisig Laban sa Kahirapan – Comprehensive and Integrated Delivery of Social Services (Kalahi-CIDSS) will be conducting the Orientation in municipalities/cities in Bukidnon, Misamis Oriental and Lanao de Norte.
Topics to be discussed during the said orientation covers the roles of the different stakeholders (eg. Local Government Units, Barangay LGU, Civil Society Organizations, etc.) during the project implementation.
Another topic covers the Modified Community Empowerment Activity Cycle (CEAC), the activities that comprise the implementation of the CDD, which covers activities from social preparation stage, volunteer pool capacity trainings, implementation proper of funded sub-projects and preparation of the Operations and Maintenance plan.
Also included in the orientation are the Engineering and Financial systems, which has a unique set-up because of its community participation/multi-stakeholder approach which ensures transparency and accountability among those part of the project implementation.
Bukidnon areas include the municipalities of Kalilangan, Kibawe, Kitaotao, Pangantucan, Libona, San Fernando and Sumilao. Misamis Oriental areas include Cagayan de Oro City, Claveria, Gitagum, Medina, Opol and Talisayan, while Lanao del Norte areas include Kauswagan, Lala, and Poona Piagapo.
GPBP, formerly known as the Bottom Up Budgeting Process (BUB) has been entrusted to the DSWD's CDD Program for the 2nd straight year. 2013 implementation includes municipalities of Kalilangan, Kitaotao, Malitbog – (Bukidnon), Mahinog – (Camiguin), Bonifacio, Oroquieta City, Tangub City – (Misamis Occidental), Poona Piagapo and Salvador – (Lanao del Norte). Twenty two (22) sub-projects are being implemented for the 2013 cycle, which will almost triple in the 2014 cycle.
Written by Marko Davey D. Reyes, DSWD