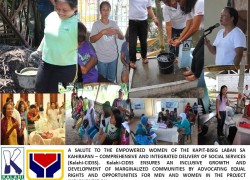 Lanao del Norte – Gina works on her clients, day in and day out. She goes around each day, attending to her patrons; working on manicures and pedicures, she does it with all humility and a big glaring smile.
Gina is among the many women we have today who are challenged with the realities of life; challenges of customs and traditions that limit women from opportunities. But this was a thing of the past, says Gina. Now, women in her hometown are empowered to rise from the stereotyping of yester-years.
Gina Pagente is a 40 year old resident of Barangay. Poblacion, Kauswagan, this province, married to Rolly for 15 years now, and a mother to a teen daughter. She has expended her days obliging on her role as a mother and wife, basing her worth in the family and society on how well she does her job as a woman.
Having to live in a community of mixed cultures (a mix of Maranao and Bisayans) there is always that tendency for conflict to brew within communities. She says that even though she was a Christian, they are submitting themselves to the customs and traditions of the Maranaos to eliminate any chance of building conflict within their community.
According to Maranaos in their neighborhood, the Maranaos are patriarchal; men heads over the family and community, and women are in charge of the household. Seldom do women work or even expose themselves in the community.
This practice is cascaded down from generations to generations, and even cascaded to the community, to the Bisayans in their barangay.
Gina shares that because of this, there is that tendency for women to be dependent on their husbands; an alarming matter she says, because there are families who are not well off, who needs more than a pair of hands working to provide for the family's needs.
Rolly, her husband works as a Civilian Security Staff with the Municipal Government Unit of Kauswagan. She shares that because her husband's job is temporary and that his salary is sometimes delayed, they have problems budgeting for food and their other needs.
"To help in raising income, I have tried learning how to do fingernail cleaning – pedicure and manicure. In this way I would be able to have additional income to cover other expenses for the family," Gina shares.
Slowly but surely, she was able to raise money to buy basic materials for pedicure and manicure. She did home services since she is unable to work regularly at parlors because she still needs to attend to her husband and child. But what she was earning was covering ground for their family's expenditure.
But since she was relying on regular patrons, there were days when she had no customers. There were times when she was unable to buy new materials until she finally ran out of nail coloring materials, and she couldn't afford to sharpen her materials.
With little opportunities for women within their municipality, and even in their neighboring municipalities, she said it was hard to find another job when her previous job failed.
She was again a stay-home mom. She had a lot of time on her hands. So much time that she was able to be part of the Payapa at Masaganang Pamayanan (PAMANA) Project under the Kapit-Bisig Laban sa Kahirapan – Comprehensive and Integrated Delivery of Social Service (Kalahi-CIDSS) Program of the Department of Social Welfare and Development in the municipality of Kauswagan.
She was amazed of the mechanics of the program. She said that it was unique since it was them who would implement the program and handle the funds directly, and that she was attracted to it because of the conduct of the Participatory Situational Analysis where they were the ones who would determine what sub-projects to fund, depending on the community's needs. But what she embraced the most was that the project ensured equal rights and opportunities both to men and women.
Poblacion started implementing their drainage canal since the village has been suffering from problems with flash floods for a very long time. People were hired to work on the sub-project. Gina was fortunate enough to be hired as a timekeeper at the sub-project site. For a few days, she was earning two hundred pesos.
"At least I would be proud to say that I am part of the project, because I volunteered for it and because I worked on it", she said.
In the four days that she was able to work as a timekeeper, she was able to raise money to buy nail polish materials and sharpen her pedicure/manicure kit. This led her to take on her pedicure/manicure job again. Soon enough, she was able to accept home services again. The income she earned was more than enough to put food on their tables and spent on the different needs of her child in school.
"One good thing was that women were allowed to work for an infrastructure project. We have been used to women being underestimated when working in this type of work, especially working with a lot of men," Gina said.
Even Rolly is thankful that Gina was able to help them with their needs through the opportunities she had with Kalahi-CIDSS. He says that rather than spend her time at home, she spends it volunteering, and that he was happy seeing Gina happy.
Gina thanks Kalahi-CIDSS for all the opportunities she had in being part of the program. She says that Kalahi has drawn the resiliency in her. "With all the problems we have in our lives, Kalahi reminds me that as long as I am alive, there is always an opportunity to defeat poverty. I CAN make a difference," Gina says with conviction.
The Kalahi-CIDSS PAMANA project has been advocating gender equality in the project implementation. There are equal opportunities ensured both for men and women, regardless of what the job is, as long as men or women are capable of doing the job. In fact, several Maranao communities have adopted this practice, allowing women in working in the field, specifically during the sub-project implementation.
To date, Gina Pagente is among the 116 women laborers equally compensated for their services during the PAMANA implementation in the region. This number grows by the minute as the PAMANA project continues to empower communities with history of armed conflict.
Together with the DSWD's promotion of peace in the region are efforts of promoting gender sensitivity in PAMANA implementing communities.
Written by Marko Davey D. Reyes, DSWD