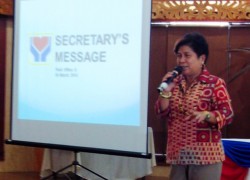 Cagayan de Oro City – "It is more fun to do the impossible." This was what Secretary Corazon "Dinky" Soliman shared to more than 900 DSWD workers in Region 10, quoting Walt Disney's statement, during the conduct of her "Roadshow" yesterday, March 5, 2014, here.
Presenting the various challenges the Department of Social Welfare and Development may face in 2014, Secretary Soliman expressed that the core challenge of the Department is to address the situation of poverty by increasing the people's resiliency. This is done by improving the strategies of implementing social protection programs and services.
The DSWD head said that the Philippines' weather patterns have changed dramatically and those natural events have become "bigger, stronger, and harder," narrating the series of calamities that hit the country, including super typhoons Ondoy, Sendong, Pablo, and Yolanda.
Because of this, she challenged the DSWD and the rest of the government's adequate capacity to respond to the needs of the Filipinos "faster, better, and bolder," by making a laser-sharp precision of identifying who, where and how vulnerable the people are through Listahanan, the Department's National Household Targeting System for Poverty Reduction (NHTS-PR).
The secretary also said that several innovations shall also be done in the implementation of the social protection programs of the DSWD, which includes the Pantawid Pamilyang Pilipino Program, Community-Driven Development, and Sustainable Livelihood Program, among others.
With this in mind, she said that the DSWD's aim is to move 2.3 Million Pantawid Pamilya families to self-sufficiency by 2016, increase the number of Listahanan-identified poor families covered by at least two social welfare and development programs from 3.9 million to 5.2 million, and increase the number of provinces with majority of their municipalities/cities having a fully-functional all local social welfare and development offices by 2016.
"This may seem impossible, but if we make our moves organized and coordinated, then it is possible," she says.
All of this is done using the DSWD's approved budget of P93.7 Billion for 2014.
The DSWD's vision is to have a society where the poor, vulnerable, and the disadvantaged individuals, families, and communities are empowered for an improved quality of life. Towards this end, the DSWD will be the world's standard for the delivery of coordinated social protection programs and social services by 2016.