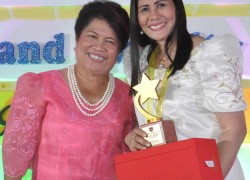 Public service must be more than doing a job efficient and honestly. It must be a complete dedication to the people and to the nation. This is the philosophy of Evelyn Madrio, the Social Welfare and Development Team Leader of Lanao del Norte and Iligan City, as she continues to serve the Department for 19 years of excellent service.
Being a social worker in the Department is not just an ordinary profession. It has always been about teamwork, pride, courage and commitment to excellence.
How did this woman of excellence delivered high quality of public service?
Her determination to be educated
Lyn, as she is fondly called by her peers, was born on May 27, 1968 and hailed from Jimenez, Misamis Occidental. She graduated at Sinara Elementary School in 1978 and finished her secondary at Jimenez Bethel Institute in 1984.
Life was difficult for this social worker since they are seven siblings in the family and her father is a seasonal carpenter. But this did not hinder Evelyn to pursue her college degree as she enrolled Social Work in MSU-Marawi in 1985 as a full scholar. As a college student, she also had a share of challenges as she experienced waking up in the wee hours of morning to study and only to realize that breakfast served will only be sautéed sayote with eggs, and the same meal is also served during lunch. But the determined Evelyn did not mind this. To support her monthly needs, she also did household chores for her sister during weekends or vacation. Eventually, Evelyn completed her Social Work degree successfully.
Early years
Just like any other newly graduate, the younger Evelyn was full of fresh ideals and principles. She went to Bahrain to work for two years and eight months. But something inside her made her decide to return home.
The calling to become a practicing social worker was her turning point. In November 1994, she finally applied to the DSWD as a casual worker with the position of SWO I. She was assigned at the Home for the Girls which catered sexually abused and maltreated children. In 1997, she was promoted as SWO II and attained permanent status.
Life became more challenging for this dynamic servant when she was tasked as a community-based social worker in the areas of Cagayan de Oro and Misamis Oriental. Part of her challenging task is to implement case management and provision of programs and services to these community-based clients namely: Children in Conflict with the Law clients, Sexually Abused/ Maltreated/ Abandoned/Neglected Children, Minor Travel Abroad, Women in Difficult Circumstances and Trafficking in Persons.
With this undertaking, Madrio monitored the adoption of National Laws for Children and Women at the local level, monitored the current condition and the progress of children placed in foster homes, implemented Rice Subsidy Cash-for-Work/Cash for Training Program to 249 farmers and fisher folks from Munai and Bacolod, Lanao del Norte.
Moreover, this dependable servant prepared project proposals for Emergency Shelter Assistance (ESA), Neighborhood Association for Shelter Assistance (NASA), Educational Assistance and Advocacy Forum.
To top it all, she provided support to 189 IDPs in the provision of Emergency Shelter Assistance (ESA) for Sendong survivors, acted as Special Disbursing Officer (SDO) during releases of Social Pension in the different municipalities of Lanao del Norte and provided technical assistance to Local Social Welfare and Development Officers and non-government partners along case management on court-related cases and other social welfare programs and services.
Juanita Alviola, Bantay Bata Center Head for Iligan City identified Ms. Madrio as a committed worker. "Nakatrabaho nako si Evelyn since 2005 pa. Naay mga cases dri nga gahimoan niya ug mga referrals. Daghan siya ug natabangan labi na sa educational assistance," she said. (I have worked with Evelyn since 2005. We have cases here in which Evelyn made referrals. She had helped a lot of clients especially in providing educational assistance.)
Ms. Alviola also disclosed that one of her memorable experiences with Ms. Madrio was handling a rape case. "Gi-rescue to ni Evelyn ang bata sa Lanao del Norte and then dri gibutang sa amoa for further safe keeping," she added.  (Evelyn rescued the child in Lanao del Norte and then she was placed here for further safekeeping.)
"If I am to describe Evelyn, I would say that she is workaholic, committed and approachable. She always made sure that all her tasks are done on time," she remarked.
Moreover, Golden Eva Castro, Center Head for Children in Conflict with the Law revealed that Ms. Madrio had been very supportive since their partnership in 2005.
"She is very cooperative in terms of referrals and in giving technical assistance to us," she said.
One of her unforgettable experiences with Ms. Madrio was helping a 17-year old client, who was involved in a drug-related case, popularly referred to as Republic Act 9265.
"Very professional kaayo iyang approach kay aside sa paghatag ug educational assistance ug ALS, nag-offer pud siya ug spiritual enhancement," she added. (Her approach was very professional because aside from providing educational assistance and Alternative Learning System (ALS), she also offered spiritual enhancement.)
"As a partner, Ms. Madrio is very professional and intelligent as well," she concluded.
Significant Positions, Innovations and Best Practices
Indeed, this woman of responsibility climbed the ladder of success as she continued to extend her public service. In 2005, she still held the position of Social Welfare Officer II but her area of assignment is now changed to Iligan and Lanao del Norte. As of June this year, this woman of integrity and competence was also promoted as Social Welfare Officer III with the same area; a solid proof of her continuous commitment and professionalism to the Department.
One of the highlights of her career is her involvement of the Department's Disaster Relief programs and services when Typhoon Sendong hit the cities of Cagayan de Oro and Iligan. The local government unit of Iligan City is the living witness on how Ms. Madrio mobilized non-government organizations, the church and other partner agencies
In the absence of the Regional Director, Ms. Madrio resolved problems, gaps/constraints along camp management and camp coordination. She updated humanitarian partners with the status of relief operations, identified gaps and constraints along emergency response management and was able to come up with appropriate solutions.
Ms. Madrio also made sure that there is transparency when updating with the flow of donations and availability of resources from other humanitarian communities. She complemented relief assistance and services with all other humanitarian organizations to address the growing needs of supervisors. Further, she strengthened and enhanced coordination with other agencies/organizations along disaster operations in Iligan City.
"I have always identified Evelyn as the "link" between DSWD and the LGU. I think that was her most important role during the time of Sendong and even up to now. She made sure that the convergence of two agencies will answer the immediate needs of our people," disclosed Iligan City Councilor Frederick Siao and Head of Camp Coordination and Camp Management.
"I would like to sum up Evelyn's character as responsible, in-command and down to earth," he commented.
"She might be tough but deep inside she is very active in the church and God-fearing. I hope we will maintain the "connection" because her unconditional dedication to serve our constituents here in Iligan is indeed exemplary," Siao stressed.
During the Sendong crisis, her active involvement also focused on presiding meetings on shelter cluster, food and non-food, protection cluster and camp coordination and camp management. With this, she took charge in giving updates as to status of shelter projects and progress reports on constructed units and relocation sites being developed.
This also included monitoring of evacuation camps with the International Organization for Migration (IOM) where she properly addressed health, sanitation and protection concerns inside the camp. She made sure that on-time delivery of relief assistance to camps particularly food and water, have been practiced. She also considered tracking of Internally Displaced Persons (IDPs) and updating a master list as crucial.
More importantly, Ms. Madrio represented DSWD during different open forums for Sendong survivors in Iligan City and involved herself in the conduct of rapid assessment in selected Sendong-affected areas in Iligan City with international humanitarian teams.
Engaging in partnerships with other humanitarian teams proved to be very significant in the life of this social worker. Ms. Baicon Macaraya, National Programme Officer of World Food Programme, emphasized the role of Ms. Madrio during the occurrence of Typhoon Sendong and Pablo.
"I find Evelyn very friendly. As a cooperating partner from the government, she was very open, transparent and supportive during the time when we organized clusters. And I appreciated that because we need people who can still manage to smile despite the pressure. The kind of quality which a social worker should possess," she revealed.
The local government of Bacolod, Lanao del Norte also recognized the efforts of Ms. Madrio as MSWDO Henedina Aban narrated how the public servant helped the municipality during the cash for work for the farmers and social pension payouts. Thus, identified as having a "heart for the poor."
"Si Evelyn all-out support gyud ni dri sa Bacolod ug walay langan motrabaho. Very effective ug sincere motrabaho," she said. (With Evelyn, she gives her all-out support and does not have any delays when working. She is very effective and sincere in her job.)
MSWDO Aban also relayed how she, herself, was aided by Ms. Madrio when she suffered kidney problems and is now undergoing dialysis.
"Gihimoan pud ko niya ug social case study para maka-avail lang ko ug medical assistance kay ga-dialysis na ko twice a month," she noted. (She even made me a social case study so that I can avail the medical assistance because I am undergoing dialysis twice a month.)
Going the extra mile on Neighborhood Shelter Assistance (NASA)
Michaela Talento, 38 years old and a resident of Barangay San Roque, Iligan City is just one of the beneficiaries of Neighborhood Association and Shelter Assistance (NASA) as well as Sustainable Livelihood Program (SLP).
She recalled how Ms.Madrio facilitated her, together with the rest of the 30 families, who availed the shelter assistance.
"Grabe among pasalamat kay Maam Evelyn gyud kay abi gyud namo nga dli na madayon nga matagaan mi ug balay. Siya gyud ang naghatag sa amo ug paglaum," the teary-eyed beneficiary said. (I am truly grateful to Maam Evelyn because I thought that the shelter assistance project will not push through.)
The beneficiary also related that Ms. Madrio has provided them excellent technical assistance when they were still preparing the necessary documents. She further described the social worker as kind, approachable and knows how to empathize with them.
"Sa una katong wala pa mi nabalayan, naa ra mi natuog sa dalan nga abog kaayo. Karon kampante na mi kay naa na mi sakto nga matulgan," she happily expressed.  (Before, when we did not avail yet the shelter assistance, we only slept along the street which is very dusty. But now, we feel comfortable because we have a place to sleep.)
Currently, the beneficiary is also a recipient of the Sustainable Livelihood Program and is now working out with establishing a Community Mortgage Program in the said area.
On Children Needing Special Protection
Perhaps the most inspiring of Ms. Madrio's endeavors is seeing a client who surpassed the challenges of being a child in need of special protection and became successful in real life.
Eleazar Oliveros was just 17 years old when he was rescued by this self-motivated social worker. During his ordeal of facing his traumatic experience, Ms. Madrio never ceased in providing technical assistance and eventually, educational assistance.
Her holistic approach became the guiding force of the young Eleazar to finish high school until college.
"Ang dili nako malimtan ni Maam Evelyn kay maskig nahuman na ko sa akong pageskwela ug wala na ko sa center, iya gyapon ko gi-followup maski naa nako sa college," he expressed. (What I will never forget with Maam Evelyn is that even if I already finished high school and was already out in the center, she would still make follow-up visits until I was in college.)
Eleazar narrated how Ms. Madrio inspired him to pursue his studies even in the midst of poverty.
"Nag-student assistant ko ug lima ka tuig para lang makaeskwela. Gitagaan pa gyud kog sapatos ni Maam Evelyn kay wala koy masuot man," he said. (I became a student assistant for five years just to go to school. Maam Evelyn even gave me a pair of shoes because I had nothing to wear.)
When asked about a significant experience with the social worker, Eleazar recalled that he will never forget when Ms. Madrio gave him a treat when he graduated from college.
"Dili gyud nako to malimtan nga iya kung gipakaon pagkahibalo niya nga ni-graduate na ko sa college. Mao gyapon iyang gibuhat pagkahibalo niya nga nakapasar ko sa board exam," he related. (I will never forget when she gave me a treat upon knowing that I already graduated from college. She did the same thing when she knew that I passed the board exam.)
Mr. Oliveros is now 25 years old and finished Bachelor of Science in Criminology. He is currently processing his application to become a law enforcer.
On Foster Care
Another heart-warming story that brings out Ms. Madrio's admirable accomplishment in social work is the unforgettable experience of Ricardo and Losminda Bayalas. The couple have always wanted to have a child and so have decided to seek advice from DSWD.
Through the technical assistance offered by Ms. Madrio, the couple was facilitated to prepare all the necessary documents required for foster care. In four months, the couple's prayers were answered. They qualified to become adoptive parents of Jullianne Claire.
"Hangtud karon dako gyud among pasalamat kay Maam Evelyn kay gitubag niya among pag-ampo. Gihatag gyud niya among pangandoy nga magkabata mi sa among panimalay," Losminda shared. (Until now, we owe our deepest gratitude to Maam Evelyn because our prayers were finally answered. She granted our wish to have a child in our home.
The couple is now exercising at the same time enjoying responsible parenthood to Jullianne Claire, now a Grade 2 student in a private school.
Working with colleagues
Ms. Madrio has also been distinguished as a competent and professional worker not only in the community but also among her peers.
Ms. Gloria Mosqueda, Ms. Madrio's unit head and Focal Person for Community-based and Social Pension remarked that the nominee is a woman who possessed the knowledge, skills and competence not only as a case manager but also as a SWAD Team Leader most especially during the outbreak of Sendong.
"She has the inherent values in giving worth and dignity of all her clients regardless of social status in the community," Ms. Mosqueda said.
Arthur Barrero, Cluster Head of the Sustainable Livelihood Program (SLP) also elaborated that Ms. Madrio is exceptional in terms of leadership skills.
"Evelyn has been my partner when Typhoon Sendong hit the cities of Iligan and Cagayan de Oro. During the assignment, she was very active in camp coordination and camp management. She takes the initiative to listen to our suggestions especially on the different issues and concerns affecting the three poverty reduction programs," he added.
"Maam Evelyn is someone that we highly respect because she really takes time to listen to us, MOA workers and also helps us coordinating with the local government and other partners," MCCT Team Leader Jahara Pandapan elaborated.
Lessons learned in social work service
If there is one thing that Ms. Madrio appreciated as a social worker, these are the guiding principles as well as the lessons that she learned during her 19 years of committed public service. The social worker revealed how she valued honesty to oneself and to her clients.
This dedicated public servant also values time as she sees to it how this is important in managing both family and career.
"My day starts at 5am when I read the Bible. And when I work, I always value time especially with my clients because this gives me a sense of fulfilment," she noted.
She also recognizes how important it is to be motivated. "As a social worker, the drive to be motivated especially in helping clients is a gift. Not all people can perform our job. This will always be a blessing to me," she stressed.
For Ms. Madrio, the most fulfilling part of a social worker is seeing her clients successful in their respective fields. She also emphasized the importance of work values especially integrity, commitment and dedication.
To her, all accomplishments are blessings from God.
"If you only trust the Lord and do your part, everything will fall into place," she ended.
Ms. Evelyn Madrio is also a registered nurse and a doting mother of two kids, Keziah Keren and Shaniah Keren. She is happily married to her college sweetheart, Edmund Hipolito. As of this time, Ms. Madrio is actively working as an agent and advocate of change in the promotion of social work practice in the Department and to the wider community. (Written by Divorrah Meneses, Monitoring and Evaluation Officer of Pantawid Pamilya)
==