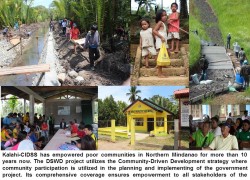 There is no denying that amidst countless efforts of the Philippine Government and its different attached agencies, the struggle for attaining and maintaining the best program that would ensure sustainable growth and development for our communities is still up for debate. The government is still addressing pressing issues that has contributed to problems of poverty all throughout the country. But with every solution possible, there also lies every possible contributing factor for failure.
To defeat poverty, it is necessary to fight factors contributing to its existence. To defeat it, a comprehensive action must be done; an effective action that will end the intergenerational poverty cycle in the country.
The Department of Social Welfare and Development, the country's lead agency in the promotion of the rights and welfare of the underprivileged, has strategically molded an approach to address poverty through its Tatsulo Program. Among the programs, the Kapit-Bisisg Laban sa Kahirapan – Comprehensive and Integrated Delivery of Social Services Program (Kalahi-CIDSS), a Community-Driven Development project, is implemented to target poor communities to have the opportunities to resolve their own problems that contribute to their being poor.
The Community-Driven Development (CDD) is a developmental program approach which is proven and effective in promoting community empowerment; especially poor communities. It is a participatory type of development program where communities are encouraged to participate in governance to ensure that their needs are properly addressed and that resources are allocated and used for the community's needs.
DSWD in Northern Mindanao has been implementing CDD through its Kalahi-CIDSS Program. Poor municipalities in Lanao del Norte and Misamis Occidental have been recipients of the program.
Communities who implement Kalahi-CIDSS appreciate the uniqueness of the project. Its multi-stakeholder approach ensures an inclusive delivery of the needed services to poor communities. Local Government Units (Provincial/Municipal/Barangay), Civil Society/Non-Government/People's Organizations, beneficiaries, work hand in hand to implement the project.
Ana C. Defamente, a Kalahi-CIDSS volunteer from San Isidro, Kapatagan, Lanao del Norte was ecstatic on how she felt for Kalahi-CIDSS during one of the project's culmination activities in Kapatagan.
"Kini ra gyud nga programa nga ang benepisyaryo magbuot unsay angay idapat ug ponduhan nga project. Ang kwarta, ang katawhan pa gyud ang maghawid. Anaa pay mga trainings sa amo nga mga volunteers aron makakat-on mi unsaon pagpadagan ug proyekto sa goberno. Makasiguro gyud ka nga dghan ka makat-unan sa proyekto", Ana shares with so much enthusiasm. (This is the only program where the beneficiaries are themselves the ones who would choose what project to make and fund. The budget is being handled by the people. And there are trainings to capacitate volunteers on how to run government projects. You can really ensure that you learn a lot from this project.)
The project also ensures strengthened ties with Local government units. In the process, CDD supports poor LGU's in the local development. Through a participatory process, LGUs become more effective leaders in addressing the needs of the community while the community members are empowered to participate in governance and demand social accountability from their leaders.
Atty. Benjie Y. Baguio, municipal mayor of Kapatagan acknowledges the impact of the project in the progress his municipality is accomplishing right now. He says that the project has encouraged participation of communities in various programs and services of the LGU. He says that true progress would only be attained by Kapatagan if people themselves would be included in planning and implementation of programs.
Again, to defeat poverty, it is necessary to fight factors contributing to its existence. This will never be done by a few people or the government alone. It is quite necessary that the people who are directly affected be given the opportunity to be capacitated so that they themselves be able to break themselves from the horrific grip of poverty.
So, why Community-Driven Development? Because it gives the poor the opportunity to do something about their problems. CDD ensures that progress is inclusive. It ensures everyone the opportunity to be part of the solution. It ensures transparency and accountability. This has been proven effective through the implementation of Kalahi-CIDSS; together with the other Anti-poverty programs of the Department, the Pantawid Pamilyang Pilipino Program and the Sustainable Livelihood Program.
Written by Marko Davey D. Reyes, DSWD