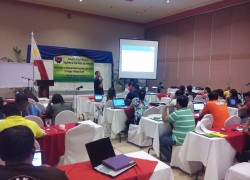 Cagayan de Oro City — A reporting system has been created by the Department of Social Welfare and Development to improve its data collection and dissemination during disasters.
Being the lead in disaster response, particularly on relief, early recovery, and rehabilitation, the DSWD's staff from Visayas and Mindanao underwent a re-orientation on the disaster reporting system, last July 29-31, 2014, here to familiarize themselves on the system and be prepared for any disasters that may hit the country in the future.
Various applications, which has been developed by its internal information and communications staff, are now being introduced to its workforce, particularly those compatible for the web, non-android and android phones.
DSWD Assistant Secretary Javier Jimenez said that the reporting system enables the Department to collect and process data from the fields and enables it to provide a more accurate and real-time information to its partners and to the public. "We are proactively creating this so that we can now be more efficient in our disaster response whenever calamity strikes our country," he added.
With the past challenges the country has faced on disaster response in the last four years until present, DSWD is strengthening its services to internally displaced persons and affected communities by applying the new disaster reporting system.###smu