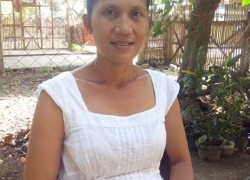 Oroquieta City – Rizalyn "Bebot" Real and his 16-year-old son, Jokring, who had a bone fracture due to an accident, was discharged from the hospital and no bill was charged to the mother after his son's surgery.
Being an on-call utility worker, Bebot was reluctant about bringing her son to the hospital since she knew she could not afford to pay for any hospital bill, let alone for a bone surgery operation that costs far more than what she earns. "But when I heard that Pantawid Pamilya beneficiaries can avail Philhealth benefits, I had to try and bring my son to the hospital, rather than just see him in so much pain."
Bebot recalled that she only presented her son's birth certificate and her Pantawid Pamilya identification card to the hospital's admission office. "I was assured then that Jokring is going to be okay," she says.
A mother's love and responsibility
Bebot is a Pantawid Pamilya beneficiary since 2009 and is receiving P800 on a monthly basis from the Department of Social Welfare and Development for one of his son's education and health.
For five years, Bebot has been attending the Family Development Sessions required by the Program. According to her, she learned that being a mother is more than just feeding her children, but rather being there for them socially, emotionally and spiritually as well.
"My relationship with my four children has dramatically changed for the better. I learned that the more I paid my attention to their dreams and ambitions and the more I am involved in their social lives, I gain their respect, and I am treated like I am their best friend," she shares.
Bebot also shares that she is very supportive towards Jokring's dream to attend college, get a good-paying job, and someday be able to buy their own house. "That is why I make sure that he continuously attends his classes and help him study his lessons. I also make sure that each day his dreams get closer to becoming real." Jokring was enrolled with Pantawid Pamilya in 2012.
Help in time of need
The past summer, Jokring had an accident during one of his basketball games with his friends. He fractured his arm and was brought to the hospital only to find out that he needed to have a steel plate attached to his fractured bone.
Bebot could not describe how relieved she was when the hospital staff told her that everything has been taken care of. She did not need to pay anything for her son's operation.
"I could have paid more than P25,000 for that surgery alone, but because I am a Pantawid Pamilya beneficiary, I was exempted from paying it." Today, Jokring is now recuperating from his operation and is now attending school.
Bebot continues to work as a utility worker for offices that requires her services. She said that regardless of her low income, it did not stop her from providing the needs of her children – for school and for their health.
"Kaya ko ang pagbabago," she says" dahil natutulongan ko ang pag-aaral, kalusugan, kapakanan ng aking mga anak kahit mababa lang ang sahod ko."
Written by Charmaine P. Tadlas