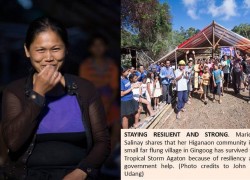 Gingoog City – Marietta Salinay still could not imagine how she and her family survived the landslide that swept their house when Tropical Storm Agaton hit their village last January this year. She could still vividly remember how she kept a hold of her children while they ran from the muddy avalanche that, in just a few minutes, destroyed their little shelter they called home.
Marietta's family was one of the 32 families in Barangay Eureka in this City whose houses were completely destroyed due to Agaton. They are indigenous peoples coming from the Higaonon Tribe.
The local government unit of Gingoog City extended their assistance to these families while identifying Talangisog, a safer location for the families to transfer residence to.
"When we arrived here in Talangisog, we felt that we were transferred in a jungle unfit for residing," Marietta said. "It had no access to water or electricity; no health centers and no schools, and it was 40 kilometers away from the market place," she remembers. "Because of the disaster, we lost our sources of income, we had no livelihood."
According to Marietta, her family and the rest of the evacuees had to find ways how to survive in the new location. They built their own shelters made of leaves and trees with their bare hands; searched and found a small water source – which is just about 50 meters away from their community, and used batteries as alternative source to power.
"It was difficult in the next few months. Personally, I felt like we were abandoned during those very difficult times," she says.
When Marietta became a beneficiary of Pantawid Pamilya, she admitted that she was wrong about the government's lack of support. "I thought that just because we are IPs and we live so far away from the bustles of the city, we are good as forgotten. How wrong was I," she shared.
Marietta explained that Pantawid Pamilya has made dramatic changes in their lives. The cash grant that they have been regularly receiving has helped them provide food and school needs for their children. "the government also made a way to send an Alternative Learning System (ALS) Teacher in our village so that our children can continue with their schooling. We can now also buy medicines as a precaution in case we might get sick," she says.
And because of the same program, she was introduced to the Sustainable Livelihood Program in which she was able to open her own food stall which she has installed in the city market.
"The program taught me how to manage my small business, how to display my food in such a way that I could get many customers to buy them," she says. "Every day, I could earn as much as P250 per day, which is really a big help already." As an initiative, she also plants vegetables at Talangisog and sells them as well at her food stall.
Marietta feels like she has gained a new life knowing that the government is there for her and her family during this difficult period of her family's life. "Kaya ko pala ang pagbabago, dahil naging matatag ako na makapaghanap ng mabuting buhay sa aking pamilya kahit naging biktima kami ng kalamidad," Marietta says.###smu