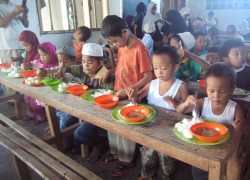 Lanao del Norte — Hundreds of children enrolled in 25 Madrasah across Lanao del Norte are now beneficiaries of the Supplementary Feeding Program (SFP) of the Department of Social Welfare and Development (DSWD) – the national government's move to achieve peace and development in the Bangsamoro and the communities through the Sajahatra Bangsamoro Program (SBP).
A component under the SBP, the feeding program provides supplementary hot meals to 1,238 children aged 5 to 12 years old enrolled in Madrasah with the aim to improve and sustain the children's nutritional status, and to improve knowledge, attitude and practices of children, parents and caregivers through intensified nutrition and health education.
DSWD promotes children's rights and good parenting
The DSWD's Supplementary Feeding Program is implemented as a response to promote the children's right to survival, development, and special protection with full recognition of the nature of childhood and its special needs (Republic Act 8980), and their right to equal opportunity and non-discrimination in social and economic activity and the public service, regardless of their class, creed, disability, gender and ethinicity (Framework Agreement on the Bangsamoro Item VI Basic Rights).
The children beneficiaries are given supplementary hot meals up to 120 days in each Madrasah with their parents to provide voluntary labor for the cooking and preparation of food and management of feeding sessions.
Aside from feeding, the children are also taught proper hygiene such as washing the hands before and after eating, table manners, and simple concepts on health care and nutrition.
Moreover, the parents are also encouraged to attend the Parenting Effectiveness Service – a series of nine sessions on self, family, parent effectiveness, health and nutrition and improve their knowledge, attitude, skills and practices on parenting.
Government and MILF partnership
The communities where the Madrasah are located are identified and endorsed by the Moro Islamic Liberation Front to the DSWD through the Task Force Bangsamoro Development (TFBD).
The SFP is part of the Department's contribution to the SBP which aims to a strong partnership between the government and the MILF towards achieving a lasting peace and development for Bangsamoro and the community.
During a recent launching of the SFP in Iligan City, one parent thanks the national government's effort to help their children's needs through supplementary feeding. "I am grateful that the government supports us in raising our children properly and effectively," she says.
Written by Charmaine P. Tadlas, DSWD