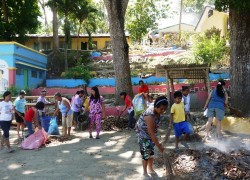 Cagayan de Oro City — Thousands of Pantawid Pamilyang Pilipino Program beneficiaries in Northern Mindanao region troop to various public schools to join the Brigada Eskwela 2015 launched by the Department of Education (DepEd).
Almost all of the 259,797 grantees of the region coming from the provinces of Misamis Oriental, Bukidnon, Misamis Occidental, Lanao del Norte and Camiguin helped the DepEd officials in preparing both the public elementary and secondary schools in preparation for the opening of classes on June 1, 2015.
The activity which kicked off last May 18 includes series of cleaning, repairing and repainting of schools to prepare the facilities.
Brigada Eskwela this year puts emphasis on cleanliness, safety and preparedness of the school and its stakeholders with the theme, "Tayo para sa Kalinisan, Kaligtasan, at Kahandaan ng ating mga paaralan."
Brigada Eskwela is a school and maintenance program of DepEd that engages all stakeholders to contribute their time, effort and resources in ensuring that public schools are set in time for the forthcoming school opening.
Cielo Alcoran, Provincial Link of Misamis Oriental of Pantawid Pamilya, said almost 98 percent of the 73,039 beneficiaries have participated in the DepEd program.
Alcoran added that parent leaders and children grantees alike joined with the officials and workers of the local government units and some other civil society organizations in preparing the school for the opening of classes.
Bukidnon province also posted a 97 percent participation of the 76,746 active beneficiaries of Pantawid Pamilya within the first two days of Brigada Eskwela activities, according to Christopher Capinpin, Provincial Link of Pantawid Pamilya.
Atty. Araceli F. Solamillo, Regional Director of DSWD Field Office X, is optimistic that all the Pantawid Pamilya grantees will continue to render their free service to the DepEd until the culmination of Brigada Eskwela 2015 on May 22.
Atty. Solamillo said the spirit of Bayanihan have pushed parents, teachers, students, civic groups, non-government organizations, soldiers, and community residents to take part on DepEd's project.
She added that through the activities, grantees have demonstrated cooperation and solidarity with the education department.
Lastly, the Regional Director expresses her appreciation that the beneficiaries have the opportunity to take part of the nationwide activity that is directed towards making the school a conducive place for learning.
The Pantawid Pamilya program is the national government's social development program that provides conditional cash grants to poor families with children aged 18 years old and below. A household could receive a maximum of P1,400 a month for their health, nutrition and education provided that they comply with conditions of the Program. These conditions include availing of regular preventive health check-ups and vaccines, maintaining at least 85% school attendance, and regularly attending family development sessions.
To date, Northern Mindanao has 259,797 active beneficiaries of Pantawid Pamilya.###
Written by Oliver Badel Inodeo, DSWD Northern Mindanao
==