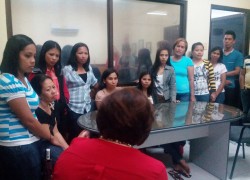 Cagayan de Oro City — They have nothing to say, but, to say their thanks.
On the day of their departure to Manila from here, the eleven Pantawid Pamilya beneficiaries who finished a housekeeping course paid a courtesy call to DSWD Northern Mindanao to express their thanks and promise to do their best in living out from poverty.
Mitzi Pactanan, mother of seven children, told Atty. Araceli F. Solamillo, Regional Director of DSWD Northern Mindanao, that she has been preparing her husband, her children and herself emotionally because she is leaving for work in Saudi Arabia.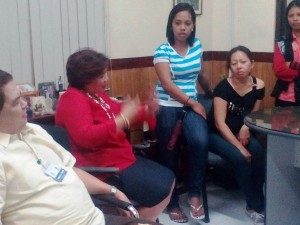 Pactanan finished the skills training at Skills Mastery Institute under the Sustainable Livelihood Program last May 2015.
She feels blessed with the TESDA-accredited training at SMI because "I was given a big opportunity by the government to undergo skills training for free and they facilitated to help me find employment."
Pactanan, a resident of Mauswagon, Laguindingan, Misamis Oriental, urged her fellow graduates to make use of their skills to improve their well-being.
"Dili tanan nga gusto mo-eskwela maka-eskwela mao nga thankful kaayo ko sa DSWD, sa TESDA, ug sa SMI nga gihatagan 'mi og opportunity nga makatabang sa among pamilya. Makapa-eskwela na jud ko sa akong manghod." (Not all who desires to study can study. That is why I am thankful to DSWD, TESDA, and SMI for giving us the opportunity to help our families. Now, I can send my younger brothers and sisters to school).
Pactanan said she has been dreaming for a better life and the national government fulfilled her dreams. "Nangandoy jud ko sa una pa nga mo-angat among panginabuhian. Salamat kaayo sa national government. Hinaot daghan pa ang inyong matabangan. We feel nga love kaayo mi ninyo," said Pactanan. (Before, I dreamed of a better life. Thank you very much for the national government. I hope you can help more people like us. We feel you love us more.)
Work in Saudi Arabia
Pactanan is among the first batch of SMI graduates who will work as housekeeping personnel in Saudi Arabia.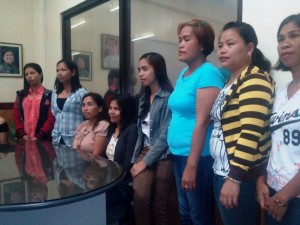 Four of her batchmates: Sheryl Gequilan of Parola, Macabalan this city; Glory May Llemit and Emeelyn Roco of Bal-ason, Gingoog City, Misamis Oriental; and Rizalina Alora of Sangalan, Gingoog City, Misamis Oriental; are set to depart for Saudi Arabia on June 22, 2015.
The other seven, including Pactanan, will momentarily stay in Manila for passport processing and pre-employment seminar.
Dr. Irene Floro, president of SMI, told Atty. Solamillo and TESDA 10 Regional Director Edgar Sales that SMI will shoulder for the food and accommodation of the 11 DSWD beneficiaries in Manila for free.
The SLP recently conducted series of graduation exercises with the support of Technical Education and Skills Development Authority (TESDA) and their accredited schools, highlighting the Pantawid Pamilya beneficiaries' completion of various Technical Vocational (TechVoc) Skills Training programs in the provinces of Lanao del Norte and Misamis Occidental.
Monitor workers
Atty. Solamillo, during the courtesy call, reminded the future overseas workers that DSWD will continue to monitor the well-being and status of their respective families.
The regional director emphasized that municipal links have been ordered to provide psycho-social interventions to the families they will leave behind.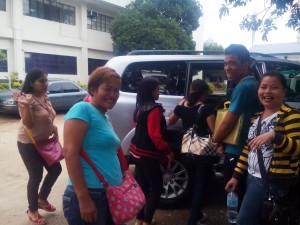 The future overseas workers, Solamillo added, must also accept the fact that they will feel lonely being far from their respective families.
One way of overcoming it, she said, is to pray.
Engr. Sales, for his part, told the beneficiaries to adhere to the values taught by DSWD, TESDA and SMI in their workplace.
Sales is optimistic that the beneficiaries are equipped with skills that are more than what is being demanded by their employers.
The SLP facilitates opportunities for the development and management of resource-based, culturally sensitive, market driven and economically viable micro-enterprises; employment facilitation; community empowerment through skills enhancement trainings; link program participants to micro-insurance providers and promote comprehensive family-based approach and community participation.
Meanwhile the Pantawid Pamilya program is the national government's social development program that provides conditional cash grants to poor families with children aged 18 years old and below. A household could receive a maximum of P1,400 a month for their health, nutrition and education provided that they comply with conditions of the Program. These conditions include availing of regular preventive health check-ups and vaccines, maintaining at least 85% school attendance, and regularly attending family development sessions.
To date, Northern Mindanao has 259,797 active beneficiaries of Pantawid Pamilya. Of this, 108,998 Pantawid Pamilya beneficiaries enjoy the benefits of the SLP. ###
Written by Oliver Badel Inodeo, DSWD Northern Mindanao
==