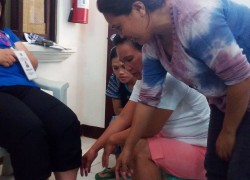 Cagayan de Oro City —On April 27, Evelyn Caballero, 39 of Barangay Balulang of this city marched on stage along with her husband and daughters during the graduation ceremony of the Philippine Institute of Skills and Development (PISAD).
PISAD is the partner of the Department of Social Welfare and Development in Northern Mindanao in training Pantawid Pamilya beneficiaries under the Sustainable Livelihood Program technical-vocational skills training.
Evelyn finished the Beauty Care Course of PISAD and passed the NC II accreditation by the Technical Education and Skills Development Authority (TESDA).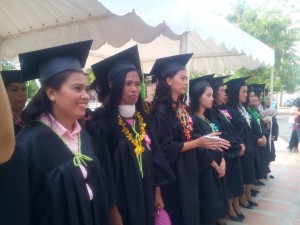 After more than a month, Evelyn is now teaching the clients of Haven for Women of DSWD here.
Happy to share
Happiness to see others developed their skills in beauty care matters most to Evelyn.
"Gusto ko ma-improve ang skills nila ug gusto ko nga daghan ang matabangan," she said. (I want to improve their skills and I want to help more people)
Evelyn will be teaching the clients of DSWD on manicure, pedicure, make-up, foot massage and spa, among others every Tuesday and Wednesday until July 2015.
Haven for Women Center Head Rosanel Pague disclosed that DSWD utilized the expertise of Evelyn because she has been into training with DSWD clients for several years.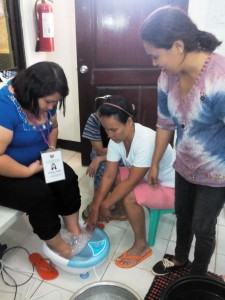 Evelyn has a parlor in Balulang then. But, in December 2011, Tropical Storm Sendong ravaged all her beauty tools. She was left with nothing.
Persevere in dreaming to finish tech-voc course
After more than three years Sendong hit this city and in Iligan, Evelyn's prayer for beauty care kit has been answered.
PISAD gave beauty care kits to 30 Pantawid Pamilya graduates under the SLP skills training program in coordination with TESDA.
Evelyn, president of the class, said her family has a brighter future because of DSWD.
Before, Evelyn disclosed that she has been into training by private institutions in beauty care but it is not accredited by TESDA.
"Lahi ra jud sa SLP kay TESDA accredited man gud. Dili lang mi basta graduate, tinud-anay jud nga graduate," she said. (SLP skills training is different because it is accredited by TESDA. We are not a mediocre graduate, but an excellent graduate).
Under the SLP skills training program, Pantawid Pamilya beneficiaries are helped to become productive and gainfully employed through skills training, job search assistance, and provision of cash allowance for transport and food.
Majority of the beneficiaries are children and dependents of recipient families of the DSWD Cash Conditional Transfer (CCT) also known as the Pantawid Pamilyang Pilipino Program.
TESDA, through its 126 administered training institutions, is responsible for the skills training and development component of the project. The six-month training includes skills assessment and certification and entrepreneurship development activities.
The skills training program has two components: training for wage employment and training for self-employment.
Parlor re-opens
For Evelyn, she is interested in re-opening her parlor in Barangay Balulang. She doesn't want to go abroad for employment because she wants to focus on guiding her daughters who are in school.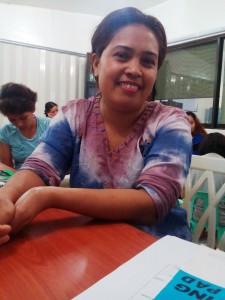 Evelyn's elder daughter Christine Mae is taking up social work course, Flynda Jane Leizl is a Grade 10 of Balulang National High School, and Christie Liza, a Grade 4 of Balulang Elementary School here.
With the re-opening of her parlor, Evelyn claims that, "nakatawid na jud ko." (I have overcome poverty).
Before, she said, her family could hardly support the education of their children.
Thankful to PNoy and DSWD
With the national government's intervention through DSWD's conditional cash transfer to improve the plight and condition of the poor families and to empower them through skills training; Evelyn is thankful to the program.
"I thank President (Benigno) Aquino and DSWD for giving us the chance to live out of poverty," she said in vernacular.
"It really helped me and millions of Filipinos who, before, don't have the opportunity to improve their quality of life. But, now, we are all enjoying all the interventions," Evelyn said.
Evelyn said she will never cease dreaming of an abundant life, adding she is determined to live out of poverty through education.
"It's only in education that I can reach all my dreams for myself, to my husband, and to my children," said she.
The Pantawid Pamilya program is the national government's social development program that provides conditional cash grants to poor families with children aged 18 years old and below. A household could receive a maximum of P1,400 a month for their health, nutrition and education provided that they comply with conditions of the Program. These conditions include availing of regular preventive health check-ups and vaccines, maintaining at least 85% school attendance, and regularly attending family development sessions.
To date, Northern Mindanao has 259,797 active beneficiaries of Pantawid Pamilya.###
Written by Oliver Badel Inodeo, DSWD Northern Mindanao.
==