Misamis Occidental – The Department of Social Welfare and Development in Northern Mindanao since 2013 conducted a yearly National Search for Huwarang Pantawid Pamilya that recognizes family beneficiaries of Pantawid Pamilyang Pilipino Program who maintain strong family ties, demonstrate positive Filipino values, and have a positive impact in their respective communities. These families serve as inspiration and proof to the public that the program helps in achieving positive changes in their lives.
In the quest for searching a family to represent Misamis Occidental Province for the regional elimination of Huwarang Pantawid Pamilya 2015; we encountered a family who remarkably live in traditional and ideal living that commonly illustrated in our Filipino books way back in our elementary years.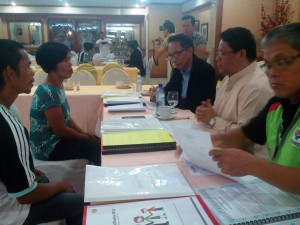 The family is the description to the typical Filipino family who lives in a small but decent house "bahay kubo" or bent house, a garden at the back of their house, with parents who are loving and responsible; blessed with children who are adorable, respectful, and diligent. Tgus, inspires in the nursery rhyme Bahay Kubo, one of the oldest Filipino Folk Song.
This is the family of Mr. and Mrs. Lionedes Sibomit of Barangay Matugas Bajo, Jimenez this province. They are quite an ordinary family perceived at a glance but when you get to know them, you'll be amazed at how they live abundantly in simplicity, enduring, and overcoming the trials that cross their paths despite the hardship of poverty.
Literally, the Sibomit house is not a "Bahay Kubo" or nipa hut but a typical house nowadays in developing rural areas. It is halfway finished, made of wood, and partly of concrete. The house is surrounded by flowers like the anthurium which is noticeable by the variety of colors and beauty. The garden reminds us of the song "Bahay Kubo" that narrates the different varieties of vegetables planted in their backyard, such as okra, string beans, eggplant, alugbati, pechay, camote, among others. Fruit bearing trees are also abundant at their backyard. You can find jackfruit, banana, durian, and santol.
The family also raises hogs, goats, and cows after they have availed of the Sustainable Livelihood Program's self-employment assistance-kaunlaran. Not only that, they have a small pond where they raise cultured tilapia. However, the fish is only for family consumption, and not for marketing. They only sell vegetables. In short, they practice the basic concept of Food Always In The Home (FAITH) in gardening. They have planted vegetables and fruit trees, and raise chickens and hogs even before the Family Development Session of the program have discussed those.
Both parents: Leonides and Rebecca are members of the Subanen Tribe. They are blessed with six wonderful and magnificent children. It's vividly shown in the family's relationship among members. The children interact with their parents like a brother, sister, friend to them.
As parent, the couple said it is really a challenge to nurture a child. This is the reason why they strive harder. In return, the couple is rewarded with great accomplishments and academic achievements of their children. Seeing them achieved, the couple said it is more than worthy rewarding because they feel it with great pride and glory.
The eldest, Ronelo, is now taking up Bachelor of Science in Marine Engineering at Misamis University. Ronelo graduated Salutatorian during his elementary years at Matugas Bajo Elementary School, Jimenez this province.
Next to Ronelo is Claire who is now taking up Bachelor of Science in Elementary Education at Mindanao State University –Maigo, Lanao del Norte Campus. Claire graduated with honors during her elementary years.
Next to Claire is Grace, who is now taking up Bachelor of Science in Biology at Mindanao State Univeristy-Iligan Institute of Technology in Iligan City, Lanao del Norte. Like her elder brother and sister, she graduated with honors-Valedictorian, during her elementary years.
Third youngest among the Sibomit family is Leah who was also a Valedictorian in her elementary education. She is now at Grade 7 at a private secondary school.
Both the second-to-the-last child and the youngest among the family are Grade 6 and Grade 5 pupils, respectively.
Based on the latest Social Welfare and Development Indicator conducted by the municipal link of Pantawid Pamilya, the household scored a highest in terms of their role as a family, which includes involvement of family members to family affairs; ability of parents to discern problems and arriving at solution; participation of family members to community activities; among others.
==
Written by Eleazar D. Gonzales, Social Welfare Officer III of Misamis Occidental