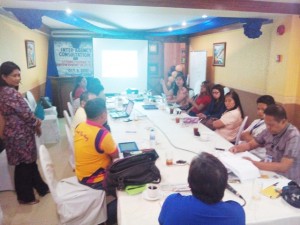 Cagayan de Oro — The Department of Social Welfare and Development here consulted today, October 8, 2015, with other national government agencies and selected local government units on its upcoming project that is related to food security for internally displaced persons (IDPs) affected by possible disasters in the future.
Learning from the Yolanda experience, the DSWD consults with the Departments of Trade and Industry, Agriculture, and Internal and Local Government, Labor and Employement, Office of Civil Defense, Technical Education and Skills Development Authority, and Provincial Social Welfare and Development Office of Misamis Oriental, to develop a strategy that will employ a neighborhood family welfare approach in helping the families and promoting the collective advocacy of Filipinos to fight hunger in times of disaster and calamities.
In consultation with its partner agencies, its project framework illustrates risks and adaptation brought about by disaster in the context of food security. The project hopes to ensure that affected individuals, families and communities have access of safe and healthy food in times of disaster and emergencies.
According to Eden Mariňo of the Social Technology Bureau of the DSWD, the project will capacitate the vulnerable communities and individuals resilient in disaster especially on food security by developing locally-produced products including productivity skills development for the communities.
Mariňo also said that the DSWD shall explore partnership with civil society organizations and private and business sector in the development and delivery of food banks services. Through the people's organizations, family and community volunteers, beneficiaries can then access free foods at the food bank facility.
The components of the project shall include public-private partnership as well which shall mobilize and strengthen the existing inter-agency groups in the locality such as the local disaster risk reduction management council; and shall maintain close coordination with the national government agencies, non-government organizations and and civil society groups that assist IDPs.
The DSWD currently consults with other agencies, communities, and local leaders to complete and launch the project come 2016.
Written by Charmaine P. Tadlas, Regional Information Officer