(Delivered during the National Family Day 2015 of DSWD at Pelaez Sports Center, Cagayan de Oro City on October 5, 2015)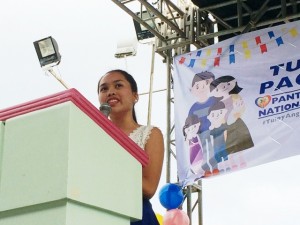 The call for change has always been the battle cry of this nation! We have been on a never-ending longing to experience changed. Change in the present societal condition towards the advancement of this country. As the cliché says, "Change is the only thing constant in this world".
To the Regional Director of Department of Social Welfare and Development (DSWD), Atty. Araceli F. Solamillo, dedicated staffs and facilitators of DSWD, honored guest, parents & friends, ladies and gentlemen , grace and peace to all.
It is with great privilege and honor to stand here and speak on behalf of the Pantawid Pamilya Pilipino Program as the Exemplary Child of 2014 of Northern Mindanao.
Allow me first to introduce myself. I am Jinky Gomez, 15 years old and currently residing in Amoros, El Salvador City. I am a 10th grader student and being blessed of being a constant 1st honor student since then. We are 10 in the family and I am the 9th one, because we are ten in the family my parents are really struggling in our daily needs.
My mother is a housewife and my father is a jeepney driver at present. This has been the primary reason why my older siblings were not able to pursue college education. They go to work at an early age to help my parents sustain our daily necessities.
Year 2011, when we became a beneficiary of Pantawid Pamilya Pilipino Program since then the program has improved our family. Before, I witnessed the bitter taste of what poverty has brought to us. I saw how my parents struggled for our school allowance, projects, school fees, food and many more.
But, despite the challenges I faced, I never stopped from schooling. Instead, I stand firm to achieve my goals and persevere.
Truly, Pantawid Pamilya Pilipino Program has helped our family a lot in terms of financial assistance.
Back October 2014, opportunities opened up , it was when I was chosen as the representative of our Division to compete for the Provincial Exemplary Child Contest of Misamis Oriental and being blessed, I won and able to represent the Province of Misamis Oriental in the Regional Competition. And I won in the Regional Competition.
Never in my widest dream that being a beneficiary of this Program will lead me to go to Manila to represent Northern Mindanao in the National Competition.
Although I was not able to make it to the top 5, the experience that I have gone, being there, makes me a winner. Since then opportunities in schools and in our community to compete in any oral competitions opens up.
Knowing that I had gone to Manila and represented the region helps other people specially my teachers to trust me. As far as I remember, our Divisions EPS in English told me when they picked me as the contestant in the Regional Oratorical Contest and have to memorize a 3 pages speech in 2 days she said, "Langga, you don't have to worry you are a national speaker."
Being a Regional Exemplary Winner opens opportunities and changes the views of people about our family and helped build confidence and trust in us.
On the other hand, there are non-beneficiaries who view that beneficiaries had abused the program and become irresponsible in using it-that they no longer work to satisfy their needs and just wait and heavily rely on the program.
That is why this program received feedbacks and comment from people for they thought that it's just a way of giving money for free. Many arguments in the senate recommending that this program should be stopped because they say that the government was just wasting their money, but wait, are these reasons enough for us to judge and jump into conclusion that Pantawid Pamilya is a waste of money?
How about to the families being helped by the program? Those families like us? Let us first stop questioning the program and listen to these people. There are conditions given by the government to those who are beneficiaries to make them more responsible in our society and encourage the students to go to school to find better jobs and not to heavily rely on the program.
"Kabataan ang pag-asa ng bayan." That is why, this program invest on us youth to achieved the change we desire in our society.
I am challenged to become a role model to everyone. To the youths who are rebelling to their parents because of their current situations which resulted to teenage pregnancy, drug addiction, alcoholism, stop schooling and a "tambay." My dear friends, let us reflect to the sad reality in our country. Are these things really helping us to overcome poverty? Or it's just a way of running from the challenges of life. Remember that quitting is never a choice. Let us all continue to build our dreams and make poverty not the hindrance to make the best of ourselves as what Mahatma Ghandi says, "Be the change you want to see in the world."
Kaya natin ang pagbabago. We can achieve change! Hold on to God and trust in Him. God bless us all and once again Good Afternoon!