Cagayan de Oro — Being one of the regions with the highest number of cases in child pornography,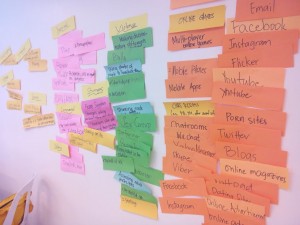 Northern Mindanao will be more vigilant in looking out for its children from pedophiles and syndicates, especially those using children to the internet for profit.
The Department of Social Welfare and Development here and other DSWD offices from four other regions, is now designing a national program called "#StopChildPornPh" which will help children and parents protect themselves from the giant industries committing trafficking and sexual abuse both online and offline.
"We are going through a lot of brainstorming to make sure the program design will become helpful for children and parents in the communities," Morena Fernandez of the DSWD says. The DSWD is working with international online protection organizations in the program design.
The design of the program includes community-based advocacy activities that introduce children and their parents on online and offline schemes that may lead them to become victims of child pornography. They shall also be taught on how they can avoid becoming victims and how to help others from becoming victims themselves.
"We are doubling up our time, and yet we are very detailed and thorough in designing this program since we believe that there are a lot of children and parents who are still vulnerable to deception on the internet, which is the most common venue where pedophiles and syndicates operate," Fernandez says.
Fernandez explains that the program shall enjoin the law enforcement, barangay officials, civil society groups, faith-based organizations, and non-government organizations to the program implementation.
Fernandez says that when the program design is finalized, the DSWD shall officially launch the program hopefully by next year.
Written by Charmaine P. Tadlas, DSWD