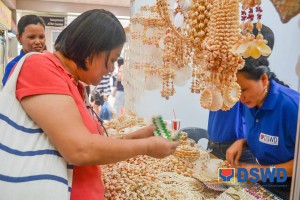 Cagayan de Oro City — The Department of Social Welfare and Development (DSWD) in Northern Mindanao has converged here at SM City Cagayan de Oro for the 2015 PaskuJuan, Monday, bringing funfare and bazaar to shoppers.
The one-day festivity complements the positive response from the recently concluded National Pantawid Pamilya Family Day.
"PaskuJuan" featured a bazaar showcasing the various products crafted by the beneficiaries of the Sustainable Livelihood Program and Pantawid Pamilyang Pilipino Porgram beneficiaries.
It also showcased a variety Christmas Show featuring dancers of Cagayan de Oro City National High School, two-time winner of the recently concluded Kaya Ko Ang Pagbabago Dance Contest along with the DSWD Chorale.
PaskuJuan" aims not only to share the spirit of love and joy in celebration and thanksgiving for the gift of family but also to showcase various ideas in making different crafts as a form of livelihood.
Dubbed as "Sama-Sama sa Landas ng Pag-unlad," DSWD Northern Mindanao Regional Director, Atty.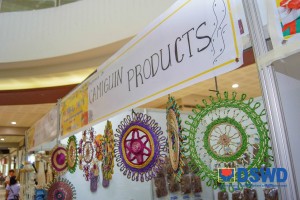 Araceli F. Solamillo said the PaskuJuan is a nationwide festival and bazaar featuring local products of the DSWD livelihood participants.
Solamillo said the PaskuJuan aims to encourage partner-beneficiaries to be active in promoting and marketing their produce as well as generating linkage for product movement not only in their community but in a bigger market like this city.
DSWD has invited schools, media, private establishments, technical-vocational institutions accredited by TESDA (Technical Education and Skills Development Authority), partner agencies and some 300 Pantawid Pamilya households to the day-long fiesta.
The concessionaires, who displayed their products inside the mall at the constructed booths,  were SLP beneficiaries from the five provinces of Northern Mindanao, selling products such fresh fruits and vegetables, fruit tars, wines, dried squids, home decors, baskets and bags, slippers, milk, bracelets/necklaces, preserved and a variety of processed foods.
 "The success of PaskuJuan last year prompted us to institutionalize it as a yearly activity. It is one way of helping the beneficiaries market their products to the public," DSWD Secretary Corazon Juliano-Soliman earlier has said.
SLP is a community-based capacity building program that seeks to improve the socio-economic status of program participants or the beneficiaries. It is implemented through two tracks: Micro-enterprise Development and Employment Facilitation.
The Micro-enterprise Development track supports micro-enterprises in becoming organizationally and economically viable, whereas the Employment Facilitation track assists participants to access appropriate employment opportunities.
Both tracks are executed based on the Community-Driven Enterprise Development (CDED) approach, which equips program participants to actively contribute to production and labor markets by looking at available resources and accessible markets.
Written by Oliver Badel Inodeo, DSWD