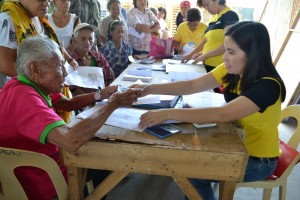 The Department of Social Welfare and Development through the Social pension program recently released stipends for  indigent senior citizens in Cagayan de Oro.
A total of 1,206 social pensioners received their stipend for first Quarter of 2016 and those unclaimed for the last quarter of the previous year.
In Northern Mindanao, there are 75,003 indigent senior citizens  who are beneficiaries of the Social Pension Program.
The Social Pension for indigent senior citizens is one of the provisions under Section 5 of the Republic Act No.9994 or the "Expanded Senior Citizen Act of 2010".  It  is an additional government assistance in the amount of Five Hundred Pesos  (P500.00) monthly stipend to augment the daily subsistence and other medical needs of senior citizens.
Eligible senior citizens who have availed of the Program includes those frail,sickly,or with disability, those without pension (both from government and non-government institutions), and those with permanent source of income, compensation or financial assistance from his/her relatives to support his/her basic needs.
The schedule of  pay out for social pension is on quarterly basis with each beneficiary receiving P1,500.00 each per quarter.
Total amount released during the said pay out totalled to P1,809,000.00.
Written by,Mitzie S. Santiago, DSWD