Cagayan de Oro City — It will be a dream-come-true for John Ericson Roselim, a 13-year old Pantawid Pamilyang Pilipino Program (Pantawid Pamilya) beneficiary from Barangay Santa Ines, Talisayan, Misamis Oriental, some 101.4 kilometer off northeast of this city, who will be graduating valedictorian in his elementary formation.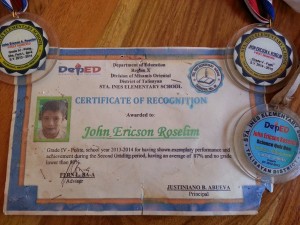 He will be graduating this March 29, 2016.
Dreaming of becoming a lawyer and at the same time businessman, John Ericson is the second child of of Crisman and Genarlie Roselim among the eight siblings.
According to Airin Jean M. Ariaso, Municipal Link of Talisayan, Misamis Oriental that John Ericson is generous and thoughtful when she conducted home visit to his family.
"He encourages others to fight for their desires and what they believe in, and doing it through God because he believes that nothing great comes easy and with God everything is possible, said Ariaso, adding that the child is motivated by love for learning and succeeding as he strive to become an outstanding pupil.
"He is also a very passionate boy. He has passion for basketball, biking and gardening. He loves to plant flowers and vegetables. He also loves cooking," claimed Ariaso.
Self-supporting
As additional source for his everyday expenses, he cooks and sells peanut roll, yema, munchkins and other sweets at school.
Despite his age, John Ericson is also opting to become a working student if his parents could not send him to college.
Active in Co-Curricular activities
John Ericson is an active member of the Youth for Christ in his town. Several years ago, he was also involved in the Kids for Christ.
In school, he is the Classroom President, Supreme Pupil Government President, and Federated Supreme Pupil Government Auditor at the Department of Education's District of Talisayan.
When he was in Grade 1, he was 1st Honorable Mention at Macabalan Elementary School in this city where he was also a member of the Science Club. When he transferred to Sta. Ines Elementary School the following year, he topped in his class.
He has been representing his school countless times at different contest like Quiz Bee where he won 2nd place, Read-a-Thon, MTAP, among others where he always took home the title.
Right now he is involved in helping other youth develop their talents through YFC activities.
The municipal link of Pantawid Pamilya said his parents have contributed a great role towards his achievement.
Despite his father is the sole economic provider of his family, his parents were able to sustain the needs of the family.
Gernalie claimed that she is managing their minimal income to support their everyday needs since they are big family.
She added that proper discipline and assigning household chores to each member of the family were being practiced for them to have a sense of responsibility.
To date, Northern Mindanao has 272,252 active beneficiaries of Pantawid Pamilya.
Pantawid Pamilya is a human development program that invests in the health and education of poor households' primary of children aged 0-18. It utilizes the conditional cash transfer scheme where the partner-beneficiaries receive their grants provided that they fulfill their co-responsibilities, including sending their children to school, availing of health services, and attending the monthly FDS.
==