Maramag, Bukidnon — It's a life changing for 21-year old daughter of a Sacada farmer and househelp mother who will graduate as com laude of Central Mindanao University here, some 135.6 kilometers from Cagayan de Oro City, today.
Living in a remote village in Kiharang this municipality, Jean Salisali Tejano is among the three com laude graduates who are Pantawid Pamilyang Pilipino Program beneficiaries of DSWD under the Expanded Student Grant-in-Aid Program for Poverty Alleviation (ESGP-PA) scholarship.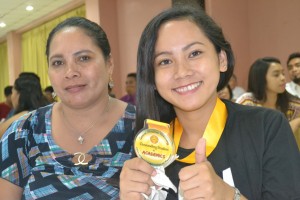 The other two cum laude graduates are Charmaine T. Nonay and Mae Pearl Villagonzalo, who are all earning a degree in Bachelor of Science in Secondary Education and ESGP-PA scholars.
Earning a degree on Bachelor of Science in Secondary Education, major in Filipino, Jean said she only have her dreams and determination to finish her studies because her family cannot support her studies in college if not for the scholarship program of DSWD and the Commission on Higher Education (CHED).
Sugar farm workers known as Sacadas are mostly concentrating and living in Bukidnon province, known for its vast sugar plantation in Mindanao.
Second eldest of the six Tejano siblings, Jean is the only member of the family who will earn a degree in college today, and have reached tertiary education.
Teary eyed when sharing her challenges during her entire college formation during the Awarding of Outstanding ESGP-PA scholars at CMU recently, Jean disclosed that the seasonal income of P160 a day of his sacada father and the P150 a day from her mother as house helper of their neighbor is not enough even for the needs of her brothers and sisters who are still undergoing the basic education curriculum.
Once, Jean recalled that she dreams of finishing a college degree to earn a decent job and will eventually help her family live-out of poverty.
"My parents never wanted me and my brothers and sisters to undergo what they have suffered due to poverty. They always inspire us to strive for our studies so that we can live out of poverty," said Jean.
Turns discrimination as challenge
With what she has achieved, Jean disclosed that she has proven all who discriminated Pantawid Pamilya college scholars wrong.
"Every time I hear them saying we (ESGP-PA scholars) are wasting government's money, I feel hurt but I take them as a challenge for me to make good of my studies," said Jean crying.
Jean added, "The scholarship is God's grace and God has a purpose for me."
Being the eldest daughter, Jean said her heart was torn into pieces many times when she saw her sisters and brothers pass school requirements late.
Love of teaching
Since her childhood days, Jean dreams of becoming a teacher.
"I love teaching. With my degree, I can help mold young minds to give importance of Filipino language," Jean disclosed.
With her degree, Jean is optimistic that she can help her younger brothers and sisters continue schooling and will eventually finish a course.
Jean also plans to give extra time for out-of-school youth in her village by teaching them literacy and numeracy.
"Just like me before, I noticed that they are eager to learn. However, they have no means of supporting their studies," stressed Jean.
CMU has 51 Pantawid college scholars graduating today under the Expanded Student's Grants-in-Aid Program for Poverty Alleviation, a program of the national government which is instituted by the Commission on Higher Education, Department of Social Welfare and Development, Department of Labor and Employment, and state universities and colleges.
ESGP-PA provides higher education to poor households that will give them opportunities for high value-added occupations that will eventually help beneficiaries have an improved quality of life.
The college scholarship program aims to contribute to the national government's thrusts in effectively addressing poverty alleviation by increasing the number of graduates in higher education among poor households and to get these graduates employed in order to lift their families out of poverty and contribute to national development.
Written by Oliver Badel Inodeo, DSWD
==