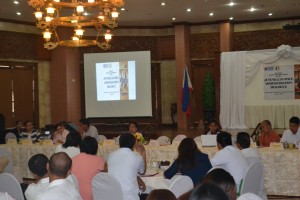 After nine years of implementing the Juvenile Justice and Welfare Act of 2006 or Republic Act 9344, a need was felt to revisit and renew the law.
Repulic Act No.9344 as amended is a landmark child protection law, not only in the country but also in Asia.  It seeks to remedy the significant problem of the plight of children in conflict with the Law (CICL) in the Philippines.  It established a comprehensive and child-sensitive justice system where children can be held accountable using procedures that avoid their imprisonment  and emphasized on prevention and rehabilitation so that there will be lesser risk of re-offending.
Relative to this, the Juvenile Justice and Welfare Committee (JJWC) conducted a dialogue for Misamis Oriental Cagayan de Oro, and Bukidnon Clusters which was participated in by registered social workers  from the local government units particularly those handling cases of Children in Conflict with the Law (CICL) and Children at Risk (CAR), representatives from the Philippine National Police, prosecutors, judges,and lawyers from the  Public Attorney's Office.
Through the dialogue, the members of the  the Pillars of Justice were able to assess the extent of its implementation, discussed issues and concerns  and its possible solutions for the stakeholders and the communities to fulfill and discharge  their duties  and responsibilities for the smooth implementation of the law.
Furthermore, the forum was also aimed to strengthen collaborative efforts of the different stakeholders for the paramount interest of  Children in Conflict with the Law (CICL) and Children at Risk.
Manuel M. Borres, Assistant Regional Director for Administration  of the DSWD Field Office X,thanked the participants for their undying support to the Department and its Programs and services specially those geared for the best interest of children.  He also urged them to continually communicate,collaborate and cooperate to ensure a more effective implementation of Republic Act 9344 or the Juvenile Justice Welfare Act .
Written by,Mitzie S. Santiago, DSWD