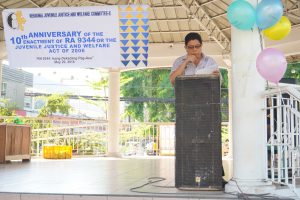 With this year's theme, "RA 9344 : Isang Dekadang Pag-asa ", the Regional Juvenile Justice Welfare  Committee together with its partner Agencies celebrated the 10th year Anniversary of the enactment of RA 9344  .
Otherwise known as Republic Act 9344 or the Juvenile Justice Welfare Act , this was legislated to fulfill the Constitutional obligation to protect children  ( especially the poor Filipino children who have less in life and whose infractions are mostly theft, which clearly shows that they commit crimes as a desperate measure to survive due to poverty), and the Nation's commitment to the United Nations Convention on the Rights of the Child, wherein the Philippines is a state party.
Marked with a motorcade as part of the kick-off activity, it was participated by representatives from various partner agencies which includes the Philippine National Police, Commission on Human Rights, Department of Justice, Public Attorneys Office,Department of Justice, and the City Government of Cagayan de Oro.
Assistant Regional Director  for Administration Manuel Borres in his  welcome message, thanked the active partners in implementing RA 9344 particularly for their being sensitive to the needs  and best interest of Children in Conflict with the Law.
He reminded them of their noble role in helping the government to mainstream awareness and consciousness of the Filipino people  to emphasize the rights of every Filipino child and youth especially those Children at Risk and those in Conflict with the Law .  He also stressed the need for the lead implementors and advocates to carry by heart their role in ensuring the protection and promotion of the welfare of children.
Written by, Mitzie S. Santiago,DSWD