Saipah Angni, 23, of Barangay Bubong, Kolambugan, Lanao del Norte started out her volunteer work as a Day Care School teacher in their area. Saipah narrates how she started out as a volunteer, "volunteer teacher ko sa day care school, graduating ko adto sa Bachelor of Elementary Education (BEED), akong mama treasurer sa Barangay Bubong, wala ko adtong panahon sa pag-elect sa mga Kalahi-CIDSS committees pero akong mama ang nagvolunteer sa ako as bookkeeper, didto nagsugod ang tanan, sukad adto, naa na gyud ko pirme dayon sa mga aktibidades sa Kalahi-CIDSS (I was a volunteer teacher at a day care school, I was a graduating student of Bachelor of Elementary Education, my mother is the treasurer of Barangay Bubong, I wasn't there during the election of committees for Kalahi-CIDSS but my mother volunteered me as the bookkeeper, that started it all for me, after that, I was always present during Kalahi-CIDSS activities)."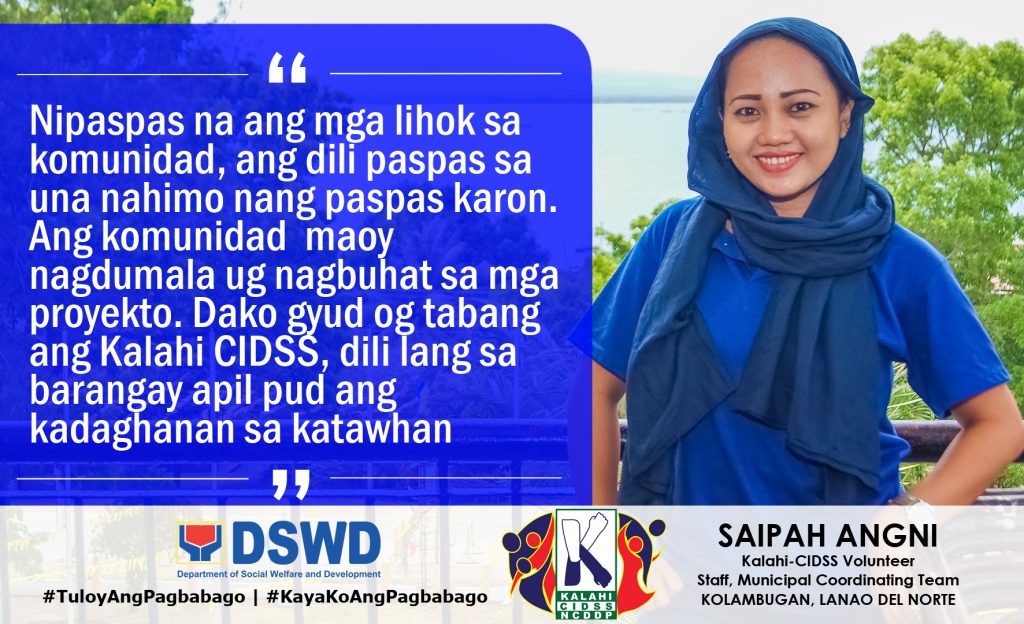 Saipah's experience as a volunteer in the Kalahi-CIDSS program gave her the opportunity to help others in her community, part of her work as a bookkeeper was to submit reports on a monthly basis with regards to the expenditures and cash flow of the community and money in the community's bank account.
Saipah said she noticed that her lifestyle changed when she started volunteering for Kalahi-CIDSS "nausab, kai sa una halfday ra man ang daycare, after – naa ra ko sa balay, matulog, tanaw tv, pero pagvolunteer na nako sa Kalahi-CIDSS wala na koy time sa pagtanga. Nagimprove ko as a person kai karon always na ko ready, dili pareho sa una nga magtanga lang (it changed, as day care was only half-a-day's work, after I was just in the house, sleeping, watching TV, but when I volunteered for Kalahi-CIDSS, I did not have time to be lazy. I improved as a person, now I am always ready, unlike before that I just bummed around)."
Barangay Bubong in Kolambugan, Lanao del Norte is a Muslim community, a traditional one at that since according to Saipah "Muslim community na nga lugar, tanan Muslim, traditional pa ang community gamay, dili pa kaayo open sa pagbag-o (the place is a Muslim community, all Muslims, the community is still a little bit traditional, not that open to change)."
Saipah, however tells us that while these traditions still exist, programs on women empowerment are slowly changing the mindset of the community.
"Sa aspeto sa women empowerment, naa na may mga programa nga para sa kababaehan, naa naman hinuon mga organisasyon gumikan sa Local Government Unit (LGU), sa Kalahi-CIDSS medyo gakakuha na nila ang pagsalig sa among komunidad (in the aspect of women empowerment, there are programs that are for women, there are already organizations through the Local Government Units, in Kalahi-CIDSS little by little we have earned the trust of the community)."
This trust then led to the implementation of a subproject that would benefit not only their barangay but neighboring communities as well.
"Dako gyud ang kabag-uhan, paghuman sa among project nga farm-to-market road, dako gyud og tabang sa katawhan ang proyekto kai dili na mahasol ang mga tawo, dali na makaabot ang mga tawo sa ilang paignan kai ayo na man ang dalan. (after our farm-to-market road, it made a big difference, the project is really of big help to the community because it makes it easier for the community to reach their destination because the road is now good)" Saipah enthused.
"Dili ra among barangay ang natabangan sa among proyekto, pati ang tanan nga mulabay dadto sa among barangay (the project doesn't only help our barangay but everybody who passes through our barangay)" Saipah continued.
The impact of the projects goes to the communities go beyond the numbers on the reports and expenses incurred during its implementation, says Saipah with conviction.
"Nipaspas na ang mga lihok sa komunidad, ang dili paspas sa una, nahimo nang paspas karon. Ang komunidad maoy nagdumala ug nagbuhat sa mga proyekto. Dako gyud og tabang ang Kalahi-CIDSS, dili lang sa barangay apil pud ang kadaghanan sa katawhan (The community's movements are now faster, the ones that were not before are now faster. The community now manages and implements the projects. Kalahi CIDSS is really a big help, not only to the barangay but also to the majority of the people)" Saipah said.
Now that she is part of the Municipal Coordinating Team of Kolambugan, Saipah says she is thankful for the opportunity to volunteer in Kalahi-CIDSS and that now she has to work even harder to achieve the vision of community-driven development, "ang panglantaw nako, hopefully, magtinabangay mi para dali ra mahuman ang mga buluhaton dili na maglangy-langay (my hopes include that we would be able to work together for the faster delivery of our work and no delays)".
Saipah says "dili sa magjudge kung unsa ang Kalahi-CIDSS, tanawon una sa komunidad kung unsa'y pasabot sa programa, kung naay mga assembly o mga aktibidades sa Kalahi-CIDSS – mutambong gyud sila para makabalo sila sa unsa'y tumong ug tinguha sa progama (don't judge just yet what Kalahi-CIDSS is all about, the community should look into what the program means, if there are assemblies or activities of Kalahi-CIDSS – they should join and participate so that they will know what the programs goals and objectives are)."
"Hinaot nga mapadayon ang community-driven development, dako man gyud ni og tabang, daghan man gyud ta og makita nga nangahuman nga mga proyekto diri ug sa ubang munisipyo, dako nako gyud siyag tabang dili lang sa barangay pati na sa tibuok katawhan (I hope that the community-driven development continues, it is really of big help, you can see a lot of finished community projects here and other municipalities, it's also a big help not only to the barangay but to the entire community)" Saipah concludes.
The Kapit Bisig Laban sa Kahirapan Comprehensive and Integrated Delivery of Social Services (Kalahi CIDSS) brought in 111 community sub-projects to Kolambugan from 2012 to 2016 amounting to P67,391,692.00. The NCDDP brought in 29, 11 of which are on-going (2016), community sub-projects from 2012 to 2016 amounting to P35,700,750.00; the PAMANA modality poured in 78 sub-projects from 2012 to 2015 amounting to P23,400,000.00; and the AUSAid/DFAT brought in 4 amounting to P8,290,942.00 from 2015 to 2016.
Kalahi CIDSS-NCDDP is one of the three poverty alleviation program, along with Pantawid Pamilyang Pilipino Program and Sustainable Livelihood Program, of the Philippine Government being implemented by DSWD that aims to empower communities of targeted municipalities to achieve improved access to services and participate in more inclusive local planning, budgeting, and implementation.
Community-Driven Development refers to an emerging approach in community development practice where processes, principles, strategies and resources are applied to ensure community empowerment by giving the people authority and control over decisions and resources.
Written by Shaun Alejandrae Yap Uy, DSWD