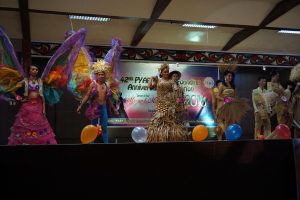 With this year's theme, "Empowering the Youth towards Sustainable Development": the Regional  PYAP  (Pag-asa Youth Association of the Philippines)  42nd Anniversary  was hosted  by Iligan City.
A total of  70 out of school  and some in-school youth delegates from all over the region participated in the three –day activity.
The PYAP or  the Pag-asa Youth Association of the Phillipines, Inc.  is a duly constituted barangay- based organization of the out-of school-youth between 15-24 years old who are clientele of the Department of Social Welfare and Development.
PYAP was first incorporated on July 29, 1974 with the Securities and Exchange Commission  under the name of Pag-asa Youth Movement Inc. and thus become an affiliate organization of the Department of Social Welfare andDevelopment.  .
The PYAP is organized nationwide and is federated from the Municipal, City/Provincial, Regional and National levels.
The PYAP Federation of different levels serves as a strategy that provides forum to discuss youth issues and concerns related to their projects and come up with solutions/recommendations addressed to both the youth and other system involved in program planning and implementation.
The goal of the PYAP is to promote the development of the out of school youth and other disadvantaged youth to become self reliant, economically productive and socially responsible citizens, able to contribute to the development of their family and community.
With this year's celebration, various activities including ball game competitions, essay writing , poster making contest, and sulong dunong contest were conducted. Other activities which highlighted the anniversary celebration were the Search for  Mr. And Ms. PYAP Contest, Vocal solo,and the Modern Creative Dance Contests.
All activities were planned and aimed to showcase the skills, potentials, and talents of the youth participants from the various delegations.
In coordination with the Department of Education and staff from the DSWD Regional Office, participants also had the chance to learn on very salient and timely topics on Child Friendly Spaces/Child Protection in Emergency Situations, Climate Change Adaptation, and on RA 10672 or the Anti-Child Bullying Law.
Youth participants also had the opportunity to join in the "Suroy sa Iligan" excursion initiated by the City Tourism and City Administration Office of Iligan City.  Participants had the chance to visit famous tourist spots of the City of Waterfalls which includes the Maria Cristina Falls, Mimbalot Falls, Tinago Falls and the Macapagal Ancestral house.
In her welcome message, Ms.Concepcion Dorado (SWO IV) who represented Dir. Nestor Ramos, encouraged the youth to discover,develop and take every opportunity that they have as windows for development and progress not only for themselves but for the society where they  belong.
Written by Mitzie Sarballon-Santiago,DSWD