Mambajao, Camiguin — Analou Abuzo got very worried when she saw her daughter Sheena arrived home from school crying. Thinking one of the teachers might have scolded her daughter, she comforted her.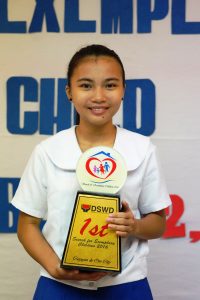 Shaking and holding on to her mother so tight, the seven year old second grader begged her mother that she did not want to go to school anymore.
Her loss of interest in going to school and loss in self-confidence was the result of her being bullied and discriminated, being called as "not pretty" and "poor".
"I was told that they (classmates) didn't want to be friends with me because I was not pretty and that I wasn't rich like them," Sheena shared, now 13 years old and a Grade 8 student of Tupsan National High School here.
Sheena disclosed that she was glad she told her parents about her being bullied and discriminated in school, saying that things might have gone worse. She said that her parents were very supportive to her and have helped her become who she is now.
"My parents have taught me the value of forgiveness. My mother taught me to forgive my classmates and do away with revenge," she said.
Today, the 8th-grader is speaking out, campaigning against bullying in schools. She knows how bullying affects a child and how it destroys someone's confidence towards themselves. She has seen the negative effects of bullying and discrimination and how it can ruin one's ambition in life if not surpassed and without proper guidance from the parents.
"I am calling everyone to stand strong and brave for those who are bullied. They sshould immediately report any incidents of bullying to their parents and school officials," she said.
Sheena is the eldest among the three children of Analou and Ralph of this island born of fire, Camiguin.
Valuing for love, friendship, and education
Sheena has always appreciated her home where she is nurtured with love and God-fearing environment by her parents.
Despite the meager income of her parents, she continues to enjoy the support she receives from her parents for her education.
In fact, after she was bullied, she took heed the advice of her parents by not allowing hatred to dwell in her mind and heart for it can lead to think revenge.
Years later, Sheena had become close friends with her classmates who bullied and discriminated her as she claimed that friendship is more important than childish quarrels.
Sheena's father is a skilled wielder and works as a construction worker on an occasional basis. The meager income of his father is enough for the family's day-to-day consumption needs. As it is, finds extra income from fishing during weekends to support Sheena's and her younger brother's educational needs before they were put under the Pantawid Pamilyang Pilipino Program.
As disclosed by her mother, Sheena already showed much willingness and interest in going to school. As it is, she was enrolled at a day care center in here at the age of 3.
With that, her mother complemented the efforts to her husband to support the Abuzo siblings in their endeavor to be in school.
"It is our way of expressing our love, and setting them the example that we really should value education so that our children can fulfill their dreams," said Analou.
Analou used to work as baby sitter for four years to augment the income of her husband. She stopped working when she got pregnant of her third child.
Active in school and community
Sheena recovered fast from the ill effects of bullying and discrimination due to the constant guidance of her parents and the augmentation from school authorities.
Who used to be timid now gained self confidence in dealing with herself and others.
This resulted to her superb performance in school, academically and in extra-curricular activities.
She finished her kindergarten formation as Valedictorian. She maintained this academic excellence in her elementary years where she finished Salutatorian.
Now, she earns excellent grades in her high school.
Her academic life is balanced with extra-curricular activities where she joined in several organizations and groups since her elementary years up to this writing.
Her busy schedule with the groups and organizations had paved the way for her to improve much in public speaking and boosting more of her self-confidence as well as in all aspects of her personality.
From there, she discovered here talent in broadcasting that influenced much her ambition and that also made her caught the attention and love of her teachers, mentors, and friends.
She is also very participative in the school activities like a variety show dubbed as Kalandrakas, Sayawit, Nutri Jingles, among others.
Responsible and disciplined
Along with Sheena's achievements; she is still known to be a sweet, kind, and obedient child as she was raised by her parents with proper values and discipline.
At a very young age, she was already trained in doing simple household chores. She also learned the responsibilities of being the eldest in the family by helping her parents and her siblings, especially in aiding the school assignment of her younger brother.
Living to her advocacy, when she won the Regional Search for Exemplary Child in Northern Mindanao eliminations, Sheena openly discussed her advocacy to her fellow grantees of Pantawid Pamilya to religiously follow the conditionalities of the program, aside from urging her fellow grantees to reach for their dreams by finishing their studies.
Sheena dreamed of becoming a doctor someday. But, she didn't want it to remain just as a dream. Thus, she is striving hard in her studies to attain that dream because of her passion to help the poor and the needy.
She also dreamed of becoming a newscaster, idolizing Ted Failon. She claimed she wanted to deliver the truth and convey information among people around the country.
Sheena considered a big part of her success to the opportunity given by DSWD through Pantawid Pamilya. She promised to make use of the program to further develop herself, make some positive changes in her family and in the community.
==
Written by Oliver Badel Inodeo, DSWD Field Office 10