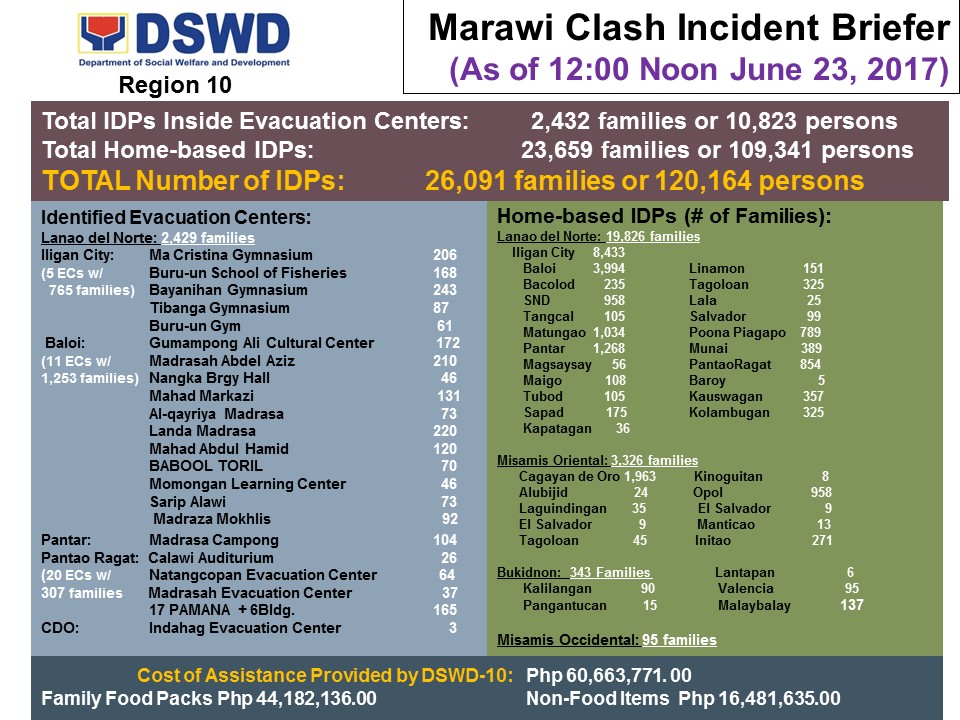 Marawi Clash Incident Briefer
(As of 12 NOON June 23, 2017)
Date of incident: May 23, 2017
Type of incident: Armed conflict
Location: Marawi City
The total number of IDPs served in the Region increased to 26,091 families or 120,164 individuals. There are currently 38 evacuation centers housing 2,432 families or 10,823 individuals. The number of home-based families totaled to 23,659 or 109,341 individuals.
For the whole province of Lanao del Norte including Iligan City, the total number of IDP families reaches 22,255 or 104,042 individuals. The number of families inside evacuation centers including Iligan City is 2,429 or 10,809 individuals.
For Iligan City alone, the number of IDP families remains at 9,198 or 42,950 individuals. There are 765 families sheltered in evacuation centers, while the number of home-based families remain at 8,433 or 39,443 individuals.
Five Evacuation Centers are operational and existing in Iligan City namely: Buru-un School of Fisheries, Buru-un Gym, Tibanga Gym, Bayanihan Gym, and Ma. Cristina Gym.
In Misamis Oriental, the number of IDP families increase to 3,329; three (3) families (or 14 individuals) of which are staying in the lone evacuation Center in Indahag, Cagayan de Oro City.
In Bukidnon, the number of IDP families increase to 412 families or 1,520 individuals who are all home-based or staying with their relatives in the municipalities of Kalilangan, Valencia, Lantapan, Pangantucan and Malaybalay.
In Misamis Occidental, 95 home-based IDP families (475 individuals) have been validated and are temporarily residing in four barangays of Ozamiz City namely: Brgy. Maningcol, Brgy. Tinago, Brgy. San Antonio, and Brgy. Gango.
Total cost of assistance extended to IDPs amounted to P62,854,801.00 of which P60,663,771.00 has been extended by DSWD. Breakdown of Cost assistance is P44,182,136.00 for food and P16,481,635.00 for non-food assistance.
Government agencies: Bureau of Fisheries and Aquatic Resources (BFAR-10), Department of Agriculture (DA) and DA-regions 10, 12, 9), Office of Civil Defense (OCD) and the Local Government Unit (LGU) of Compostela Valley also provided relief assistance for the IDPs through the DSWD Field Office X, recorded, as of June 22, 2017. The items comprise mostly of food and non-food items. The Province of Lanao del Norte provided P1,852,443.00 for IDPs and Non-Government Organizations (NGOs) also provided a total of P338,587.00 as recorded, as of June 22, 2017.
For IDPs with missing relatives or friends, they are advised to coordinate with the Office of Civil Defense who is the responsible Agency for missing persons and other related concerns.
For IDPs in evacuation centers who wish to avail of transportation assistance or the Balik Probinsiya Program, they may ask the Camp Managers for referral letter to be submitted to social workers assigned at the Operations Center, who will assess them if they are qualified or not based on their Disaster Assistance Family Access Card (DAFAC) and Barangay Certification.
To date, a total of P90,079.00 is already released to IDP beneficiaries as transportation assistance. They went home to their respective provinces.
IDPs can avail of both food and non –food assistance upon the endorsement from the Local Government Units through the Municipal City Social Welfare and Development Officers in the areas where they are temporarily residing for home-based IDPs and camp managers for IDPs living inside the evacuation camps.
The Department of Social Welfare and Development (DSWD) Field Office X facilitates the on-going distribution of the P1,000.00 food assistance for Ramadan to all validated IDPs.
DSWD-X has been continuously joining the Regional Coordination Command Center meeting along with the Office of Civil Defense, DSWD-ARMM, DOH and other agencies for regular updating, resolution of issues and point of collaboration pertaining to the disaster operation.
#DSWDMayMalasakit