DSWD FO X Marawi Clash Briefer
Update as of 4:00PM June 8, 2017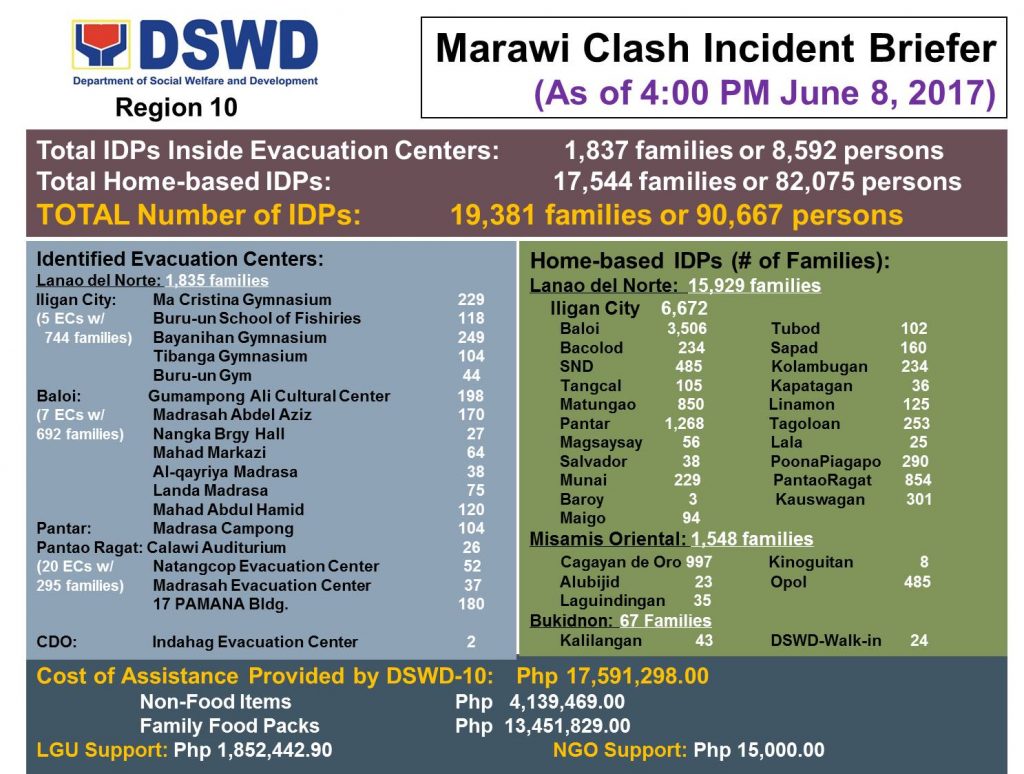 The DSWD Field Office 10 Disaster Operation Center in Iligan City continuously monitors the situation of Internally Displaced Persons (IDPs) coming from Marawi City.
The status of IDPs has increased to 19,381 families or 90,667 persons of which 1,837 families or 8,592 persons are inside evacuation centers while 17,544 families or 82,075 persons are home-based IDPs.
.
Lanao del Norte currently hosts 33 evacuation centers with Iligan City continuously hosting the most number, with 744 families or 3,534 persons in its five evacuation centers, followed by the municipality of Baloi hosting 692 families or 3,209 persons in seven evacuations centers, Pantao Ragat with 295 families or 1,405 in 20 evacuation and Pantar with 104 families or 432 persons in one evacuation centers.
The previously reported evacuation center in Tubod which hosted 19 families was declared closed by the LGU since the IDPs transferred to the municipality of Matungao.
Furthermore, Cagayan de Oro City still holds evacuation center in Brgy. Indahag hosting two families composed of 12 persons.
The Home-based IDPs have increased to 17,544 families of which Iligan City has 6,672 families, Baloi with 3,506 families, Bacolod with 243 families, SND with 485 families, Tangcal with 105 families, Matungao with 850 families, Pantar with 1,268 families, Magsaysay with 56 families, Maigo with 94 families, Tubod with 102 families, Sapad with 160 families, Kolambugan with 234 families, Kapatagan with 36 families, Linamon with 125 families, Tagoloan with 253 families, Lala with 25 families, Salvador with 38 families, Poona Piagapo with 290 families, Munai with 229 families, Pantao Ragat 854 families, Baroy with 3 families, and Kauswagan with 301 families.
The validated home-based IDPs in Cagayan de Oro have increased to 997 families, from its previous 896 families. There are currently 8 families in Kinoguitan, 23 families in Alubijid, 485 families in Opol, and 35 families in Laguindingan. Manticao, Misamis Oriental has 6 home-based IDPs who are all intern students from Marawi City with no family members with them. And lastly, Bukidnon has recently reported 43 displaced families in the municipality of Kalilangan and about 24 families went to the DSWD provincial office in Bukidnon to register as IDPs from Marawi City.
The Field Office 10 has already provided a total cost of assistance amounting to Php 17,591,298.00 of which Php 4,139,469.00 worth of Non-food items and family food packs worth Php 13,451,829.00. While Local Government Units of Iligan City and Lanao del Norte has extended a total assistance worth Php 1,852,442.90. Some Non-government agencies have also extended Php 15,000.00.
The office is continuously facilitating assistance for IDPs who wish to go back to their respective provinces.