Marawi Clash Incident Briefer
(As of 12 PM July 6, 2017)
Date of incident: May 23, 2017
Type of incident: Armed conflict
Location: Marawi City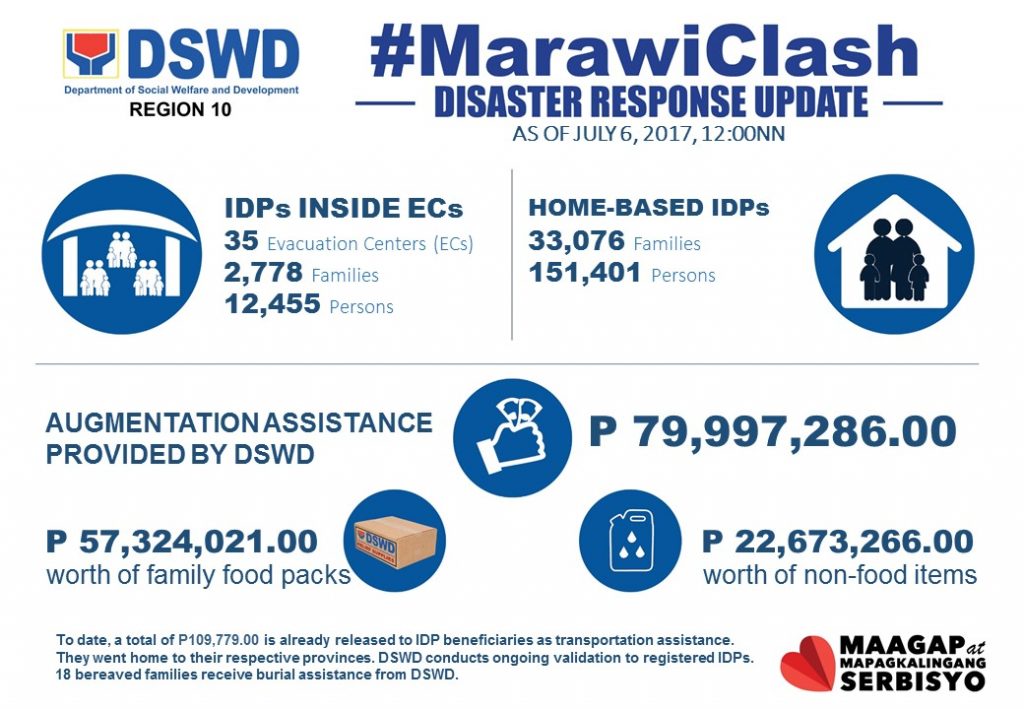 The total number of IDPs served in the Region increases to 35,854 families or 163,856 persons. There are currently 35 evacuation centers in region 10 housing 2,778 families or 12,455 persons. The number of home-based families total to 33,076 or 151,401 persons.
The number of Evacuation Centers (ECs) in Region 10 is as follows: Iligan City – 5; Baloi– 11; Pantar – 1; Pantao Ragat – 17; Cagayan de Oro City – 1.
For the whole province of Lanao del Norte including Iligan City, the total number of IDP families served increases to 29,873 or 142,389 persons. The number of families inside evacuation centers served, including Iligan City, is 2,774 or 12,439 persons. Home-based Families served in Lanao del Norte, including Iligan City, is 27,099 or 129,950.
For Iligan City alone, the number of IDP families served is 15,496 or 75,603 persons. There are 793 families sheltered in evacuation centers served or 3,826 persons, while the number of home-based IDP families served is 14,703 or 71,777 persons.
Five Evacuation Centers are still operational in Iligan City namely: Buru-un School of Fisheries, Buru-un Gym, Tibanga Gym, Bayanihan Gym, and Ma. Cristina Gym.
In Misamis Oriental, the number of IDP families served is 5,459 or 19,415 persons; four (4) families or 16 persons staying in the lone evacuation Center situated in Barangay Indahag, Cagayan de Oro City are served. The number of home-based IDP families is 4,447 or 16,212 persons.
In Bukidnon, the number of IDP families served remain at 427 families or 1,577 persons who are all home-based or staying with their relatives in the municipalities of Kalilangan, Lantapan, Pangantucan, San Fernando and the cities of Malaybalay and Valencia.
In Misamis Occidental, the number of IDP families served remain at 95 families or 475 persons who are all home-based temporarily residing in four barangays of Ozamiz City namely: Brgy. Maningcol, Brgy. Tinago, Brgy. San Antonio, and Brgy. Gango.
Total cost of assistance extended to IDPs amounts to P83,369,396.00 of which P79,997,286.00 is extended by DSWD. Breakdown of Cost assistance is P57,324,021.00 for Family Food Packs and P22,673,266.00 for non-food assistance.
The Province of Lanao del Norte provided P1,852,443.00 for IDPs and Non-Government Organizations (NGOs) also provided a total of P1,519,667.00 as recorded.
For IDPs in evacuation centers who wish to avail of transportation assistance or the Balik Probinsiya subsidy, they may ask the Camp Managers for referral letter to be submitted to social workers assigned at the Operations Center, who will assess them if they are qualified or not based on their Disaster Assistance Family Access Card (DAFAC) and Barangay Certification.
To date, a total of P109,779.00 is already released to 61 IDP family beneficiaries as transportation assistance for those who went home to their respective provinces.
Ongoing validation for registered IDPs, which deadline of registration was July 5, 2017, is being conducted by DSWD-X.
DSWD-X turns over camp coordination and camp management to DSWD-ARMM. DSWD-X has been continuously joining the Regional Coordination Command Center meeting along with the Office of Civil Defense, DSWD-ARMM, DOH and other agencies for regular updating, resolution of issues and point of collaboration pertaining to the disaster operation.
Based on Joint Statement issued by DSWD Secretary Judy Taguiwalo, DSWD-ARMM Secretary Haroun Al-Rashid A. Lucman, and Marawi City Mayor Majul Usman Gandamra, July 5, 2017 will be the last day of registration for all IDPs. The food and financial assistance of P5,000 will be given to the IDPs upon their return to their communities in Marawi City.
#DSWDMayMalasakit