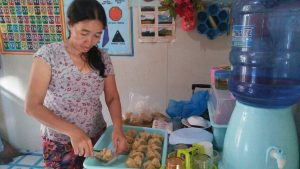 We all go through various challenges in life.  For Elsa Marie P.  Ganzan, being able to surpass her trials in life indeed, left her lots of lessons.
A mother of six, Elsa is an epitome of a solo parent, who has nothing in mind but, to be able to find means to provide for the needs of   her growing children. She is a picture of strength and determination to withstand trials and the ups and downs in life.
Her day starts with cooking kakanin or native delicacies to be sold for the day and at the same time, cooking the meals for her five children and preparing them for school.  Elsa earns a living by selling kakanin or native delicacies and cooked viand.
A petite 47-year-old woman like Elsa, one would never know that, she had indeed been to a lot of hardships in life much more, a victim of domestic violence and abuse before.
Living with an abusive and violent partner for 14 years was never easy for Elsa.  Her partner, then a construction worker, always finds fault in her, oftentimes, accusing her of having other affairs.  This led to continuous and habitual beatings which were witnessed by her children.  Elsa then, did not have the courage of pressing charges against him, out of pity to her children.  She painstakingly endured every beating and all forms of abuse inflicted by her partner for the sake of her children.
It was then in 2014 when she could no longer take the abuse of her live in partner when he would also beat her children.  She resorted to filing charges against her partner.  This was the reason why Elsa and her kids were brought to the Regional Haven for Women in Northern Mindanao for temporary shelter.
It was at the Center where Elsa learned how to cook various delicacies.  While at the Center, it was not only Elsa who was helped but more so, her children to slowly recover from the trauma they had experienced from their abusive father.
For Elsa, it was a blessing in disguise that they were placed for temporary shelter at the Center.  "I am grateful that through the Haven of the Department of Social Welfare and Development, not only was I able to recover from the bad experiences and the trauma I have had but, it has also provided me opportunities to learn a lot of skills which I have used to meet the needs of my children.  It is never easy to be a solo parent, but, with the help of the DSWD, it has somehow eased the burden."
Through the Department of Social Welfare and Development's recommendation, Elsa and her kids were also granted a unit by the Filipino Housing Project in Calaanan Relocation Site in Cagayan de Oro City.  Aside from the free housing Unit that they were granted with, the children are presently enrolled at the nearby Public Schools to which, Elsa is even more thankful.
Elsa's story is only one of the many lives who have been transformed and have proved to themselves that indeed, there is hope after all the trials they have been through.  This also shows how the Department of Social Welfare and Development, through the untiring support and labor of the staff of the Regional Haven for Women, have helped restore the once broken and hopeless lives of women and children victims of abuse and violence.
Written by Mitzie S. Santiago, DSWD