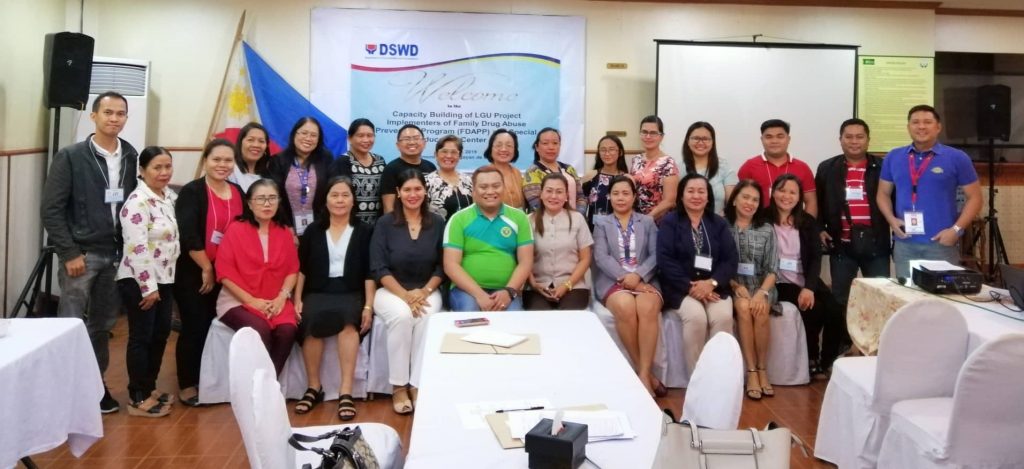 To equip service providers on how to prevent drug abuse cases in family settings and in managing drug abuse centers, the Department of Social Welfare and Development Field Office 10 (DSWD-10) trains 27 social welfare and development officers coming from the Local Government Units of Bukidnon, Lanao del Norte, Misamis Occidental, and Misamis Oriental last July 11-12, 2019 in Cagayan de Oro City.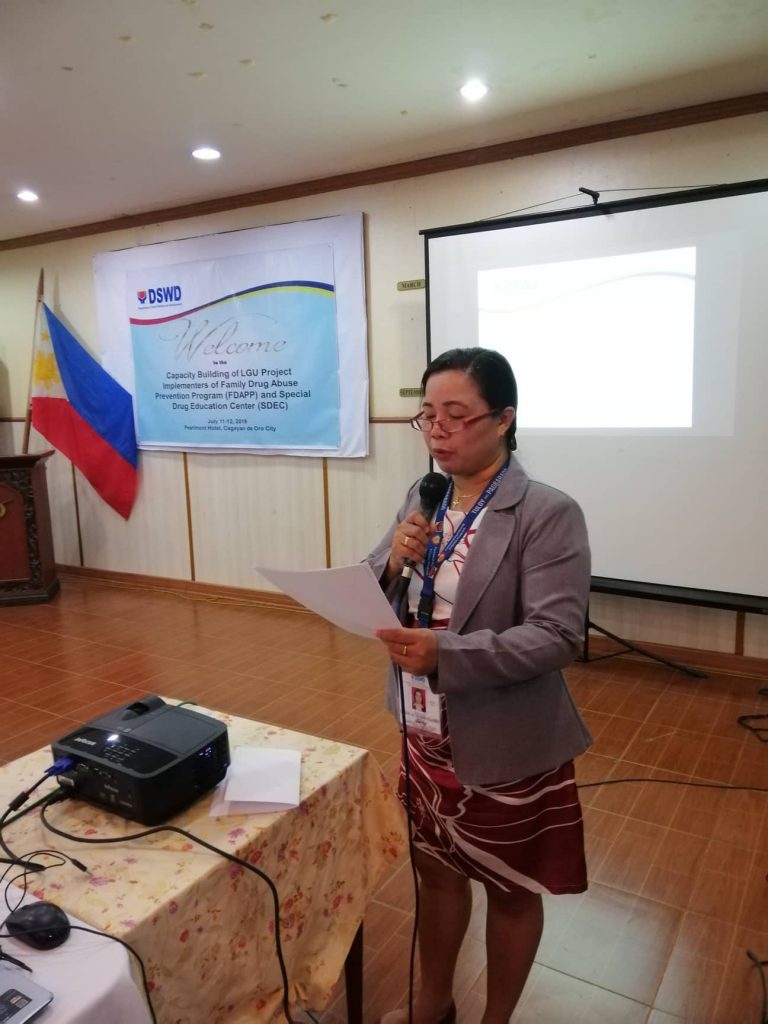 Ms. Delia Maravillosa, Head of the Social Technology Unit of the DSWD-10, introduced to the participants the Family Drug Abuse Prevention Program (FDAPP) and the Special Drug Education Center (SDEC), both social technology projects the Department is advocating for LGU adoption.
The FDAPP creates awareness and educate families on the underlying causes of drug abuse problems and its ill effects, and develop their capacities on parenting and life skills towards the promotion of a drug-free home and community. The FDAPP aims to promote and strengthen the Filipino values which uphold the importance of family ties, and unity and growth.
The SDEC, on the other hand, is in support to Republic Act 9165 also known as the Act instituting the Comprehensive Dangerous Drugs Act of 2002. It involves the youth in community affairs, and decreases number of youth drug dependents and drug-related crimes in the community. The programs and services in the said drug education center includes self-enrichment, prevention, capability building and skills trainings, literacy program, family counselling, community participation, recreational or socio-cultural activities, spiritual growth, and referral services.
These social technology projects are just two of the many innovative models of Social Welfare and Development interventions the DSWD is advocating to LGUs.
The Department emphasizes its steering role, being responsible in the development and enhancement of customer-driven social protection programs that address the current and emerging issues of the poor, vulnerable, and disadvantaged individuals, groups or families; the Local Government Units, on the other hand, is responsible in directly implementing social services and programs, including technologies being introduced to them by the DSWD.
The other social technology projects advocated by the Department are the Comprehensive Intervention Against Gender Violence (CIAGV), Psychosocial Care and Support Services for Persons Living with HIV and their Affected Families (PLHIV), Modified Social Stress Model (MSSM), Aruga at Kalinga sa mga Bata sa Barangay, Youth Productivity Services (YPS), Home Care Support Services for Senior Citizens (HCSSSC), Intergenerational Program for Senior Citizens and Children, Sheltered Workshop for Older Persons and Persons with Disabilities, Counseling Services for Rehabilitation of Perpetrators of Domestic Violence (CSRPDV), Sharing Computer Access Locally and Abroad (SCALA), and Job Network Services for Perennial Clients of Crisis Intervention Unit of DSWD.