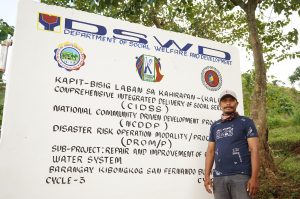 Lovermin Villasis is an all-around construction worker. As unique as his name is, his dedication to DSWD KALAHI-CIDSS is hard to find. In the municipality of San Fernando, Bukidnon, Lovermin is infamous for spearheading KALAHI-CIDSS sub-projects. He's built/repaired water systems and a three-classroom school building for Indigenous People learners. Each sub-project has a heartfelt story to tell about Lovermin and his zeal. "He never backs down from any challenge until the project is finished" People would describe him.
It all started in 2017 when he became the Barangay Sub-Project Management Committee or BSPMC head for the construction of potable water system (gravity driven) from KALAHI-CIDSS in sitio Sagulayan, barangay Kibongcog. Armed with his skill and eagerness to learn the process, the sub-project was completed and provided a better quality of life to the IP community.
When unfinished sub-projects in barangay Bonacao and Namnam seemed impossible to revive, Lovermin was the man of action. But the most challenging was the unfinished Classroom Construction for Lumads (CCL) in sitio Kiranggle, barangay Dao. "The physical accomplishment was about 30%. Only the roofing and flooring were done. Some of the materials were looted," he said
Aside from the 9-hour mountain climb, armed struggle is also present in the area. No supplier would take the trouble to revamp the project. But not Lovermin.
With the funding from KALAHI-CIDSS, and the support of the local government and the cooperation of the community, the sub-project had a new beginning.
Lovermin formed a group that he called PPMS: Panday, Plumber, Mason Skills. He and his men, together with IP volunteers, were head on to the challenge.
Hours of hiking ascent as men sweat blood to reach Kiranggle to deliver construction materials in this faraway sitio. If a sack of cement costs 260 pesos, manual hauling is at 500. Resources were limited, but Lovermin would beat any skilled man when it comes to planning and strategy—thanks to his friend engineers who guided him all the way.
Every night in sitio Kiranggle, Lovermin and his friends beat their loneliness with a guitar and improvised percussions, as if celebrating the project's near completion.
The school building was finished and was turned over to the community. An insurmountable goal at first—but insurmountable was never at Lovermin's vocabulary.
In barangay Little Baguio, potable water system from KALAHI-CIDSS also gave residents new hope, likewise in barangay Kibongcog and Iglugsad just recently, where Lovermin and other stakeholders linked arms in the spirit of bayanihan.
"Ang programa mao'y naghatag kanako og kadasig, nga diay, ang potensyal sa tawo mohinay-hinay og saka. Dili ra diay ko usa ka construction worker, pwede pa diay ko mahimong usa ka manager nga modumala sa proyekto."
Lovermin believes in the objectives of KALAHI-CIDSS and can vouch for the effectiveness of community-driven development.
"Kung kini pa lang nga konsepto ang gihatag sa atong pangaggamhanan, mao'y silbi systema, wala'y pobre. Tanan nga social services ug panginahanglan sa katawhan mahatag gayod."
Lovermin is a story to tell about the impact of community-driven development in effectively addressing the needs of a community and empowering people to reach their true potentials.