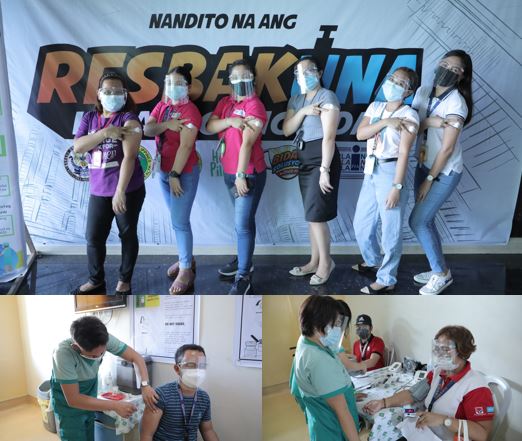 As part of the initiative to protect its personnel from COVID-19, the Department of Social Welfare and Development (DSWD) started the first leg of vaccination for its frontliners on June 16 at the East Avenue Medical Center.

Through the partnership with the Department of Health (DOH), the DSWD was able to vaccinate 100 employees from the Program Management Bureau and Crisis Intervention Unit as it kicked off the symbolic vaccination of the Department's A4 population.

Ma. Lilian Malig-On, 55, was one of the DSWD personnel who was inoculated during the ceremonial vaccination. She believed that the opportunity to get the jab was important not only for herself but also for the people she encounters in her daily work as a social worker.
"Unang-una 'yong protection at the same time para kapag haharap tayo sa kliyente, both of us are safe," she said.

Following the protocol, the personnel registered at the DSWD website and signed the consent form; underwent vital signs monitoring; and was assessed by the attending physician before the vaccination. Likewise, the vaccinees had to stay at least 15 to 30 minutes at the vaccination area, depending on the physician's assessment, for observation.

Protecting staff, residents of care facilities.
Prior to the symbolic vaccination, the Department, in its continuing effort to ensure the safety of the personnel and residents of its Centers and Residential Care Facilities' (CRCFs) during the pandemic, reported that 1,191 staff and residents from 43 CRCFs have already been vaccinated against COVID-19.
Some 871 personnel from various CRCFs nationwide and 320 elderly residents from the Haven for the Elderly in CALABARZON and the Golden Reception and Action Center for the Elderly and Other Special Cases (GRACES) in Quezon City have been inoculated.
The vaccination roll-out was done in partnership with concerned local government units (LGUs) where the CRCFs are located.
DSWD pledges to continue to prioritize the welfare and safety of its clients and personnel by ensuring that they are properly provided with the right information on the government's vaccination program. ###