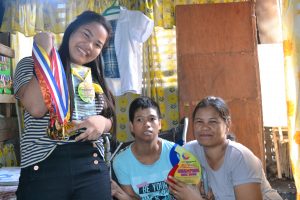 Cagayan de Oro City — Mary Che Vitor will wake up early in the morning helping her mother, Anita, in taking a bath and dressing up her sister who has a cerebral palsy.
An 18-year old graduate of senior high school of Cagayan de Oro City National High School (CDOCNHS) here, Mary Che will always devote time doing the household chores and taking care of her eldest sister, Mary Love, daily despite her hectic schedule.
Awarded with Highest Honors during the recent graduation in her class, Mary Che disclosed that she strived hard to excel in her class in order to earn good grades and lay strong foundation for her future.
Mary Che dreams of becoming a Psychologist.
Second of the five Vitor siblings, Mary Che promised to help her parents in rearing the eldest sister, who has mobility and verbal limitations.
Medical dictionary defines cerebral palsy as a condition marked by impaired muscle coordination (spastic paralysis) and/or other disabilities, typically caused by damage to the brain before or at birth.
May Che said she will provide physical therapist, occupational therapist, and speech therapist for Mary Love when she will finish her college studies and earn a stable job to improve the condition of her eldest sister.
She is also planning to buy mobility aids and assistive devices for Mary Love.
Active in school and co-curricular activities
 May Che has been a consistent honor student since her elementary years in Kauswagan Elementary School.
Included in the fast learners' section when she was in Grade 5 and 6, Mary Che still maintain excellent grades, earning recognition and awards during commencement exercises and graduation.
During her junior high school days, May Che enrolled at CDOCNHS. She did not only maintain her top post in her class, but, became active to co-curricular and school activities.
She has been representing her school in school press conferences, regional and provincial quiz bees and bowls during those years.
Mary loves to read and write stories during her elementary years. When an opportunity opened for her to the school paper, she applied for a position. She eventually became an essay writer and later an editor-in-chief of the school paper, The Naked Truth, a position she holds until she graduated in senior high school.
Trying her luck in organizing and leading her fellow students, May Che won the Treasurer position in the elections of their supreme student government.
She also won the trust and confidence of her fellow students taking the Humanities and Social Sciences track by making her their class president.
'4Ps, best initiative of the government'
 Mary Che's family is an active member of Pantawid Pamilyang Pilipino Program (4Ps) of the Department of Social Welfare and Development (DSWD) in Zone 6, Tinago, Capisnon, Kauswagan in this city.
While she's about to graduate at the program after finishing senior high school, Mary Che asked DSWD and the administration of President Rodrigo Duterte to continue the program to help the children of the poor Filipino families finish, at least, high school education and guarantee their health.
"Pantawid had been a blessing to us because it helps us in reaching for our dreams, that is, to live out of poverty," she said in vernacular.
She added, "that's why I strive hard to excel in my studies because I am confident that there is this program helping us in our needs. The small income from my father's salary as security guard cannot compensate to our needs in our studies and daily needs. Thanks to the 4Ps program."
The 4Ps is a human development measure of the national government that provides conditional cash grants to the poorest of the poor, to improve the health, nutrition, and the education of children aged 0-18. It is patterned after the conditional cash transfer (CCT) schemes in Latin American and African countries, which have lifted millions of people around the world from poverty.
The Department of Social Welfare and Development (DSWD) is the lead government agency of the 4Ps.
Pantawid Pamilya is only one of the poverty reduction strategies of the national government implemented by the DSWD, with the primary aim to break the intergenerational poverty cycle.
In Northern Mindanao, there are more than 270,000 household active beneficiaries of the program.
==
Written by Oliver Badel Inodeo, Pantawid Pamilya Information Officer, DSWD