CAGAYAN DE ORO, 23 January (PIA) – The Department of Social Welfare and Development (DSWD) continues to impact the lives of the poor Filipino families with the Pantawid Pamilyang Pilipino Program (Pantawid Pamilya).
During the regular program of Philippine Information Agency's Lambo Dyes in Radyo Ng Bayan, two Pantawid Pamilya beneficiaries shared their insights on how the program changed their lives. Both of them serve as parent leaders in their respective barangays where they handle 30 or more members.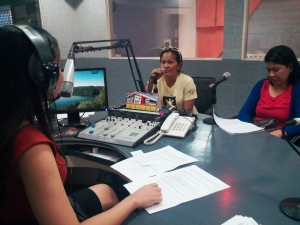 According to Vivian Anadon, 35, who currently resides in Pinikitan, barangay Camaman-an, Cagayan de Oro City, there was really a big change that happened to herself and  family. Anadon is a mother of four who are all attending school with the help of the Pantawid Pamilya. She said she was able to send her children to school and has bought school materials because of the program.
Anadon's membership to the Pantawid Pamilya and becoming a parent leader brought her so much experience and learning. She was even chosen to be in Manila for DSWD's first international conference on Conditional Cash Transfer (CCT) held on January 11. Anadon took part in the workshop by sharing her experience as a beneficiary and a parent leader to her co-members and guests from other countries like Mexico.
"I was less confident before but now I learned to face everyone," Anadon expressed.
Meanwhile, Joecel S. Cabanday, 38, parent leader of Barangay 25, shared that she became a recipient of the Sustainable Livelihood Program (SLP) after attending several seminars on livelihood. Cabanday added that there were really significant changes that happened from the past, shifting from being clueless to managing their own sources of income with the aid of SLP seminars.
Cabanday and Anadon are members of Pantawid Pamilya for more than four years and as parent leaders, they take charge in the assembly of members in a cluster for Family Development Sessions (FDS) and other Pantawid Pamilya related seminars. Parent leaders also work with the DSWD city links to convey the concerns and updates of the members and vice versa.
Currently, DSWD urges the community of both members and non-members of the program to safeguard the families that are in need of help and reminds the public on the major conditions that every ‪beneficiary has to observe to be retained on their list and that includes regular attendance to the family development sessions, monthly family check-up at the rural health units, and at least 80 percent attendance in school for the children. All these are designed for the beneficiaries to be able to achieve social transformation and eventually attain self-sufficiency. (Jonathan M. Macas/PIA10)
==