Cagayan de Oro City — Victor Maglangit, 52 of District 2, Barangay Puntod this city has a trouble with walking. He is struggling to balance his body after surviving from a recent stroke attack that paralyzed his left arm and left leg.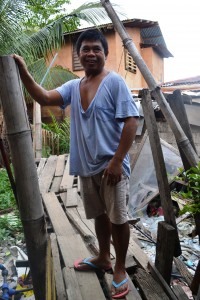 After his stroke on June 20, Victor was brought to Northern Mindanao Medical Center for medication.
During his seven-day admission inside NMMC, Victor felt worried on his hospital bill, the doctor's fee, and expenses for his medicines.
But, after a week, the attending physician advised Victor to go home because he has fastly recuperated from a stroke.
Victor immediately told her wife, Marilyn, to inquire on their bill at the cashier of NMMC so that they can look for someone to help them pay the amount.
When at the cashier, Marilyn was told by the cashier that they have nothing to worry because the hospitalization, medicines and professional fee for the doctors were all free.
"Ayha pa nako nadumdoman nga libre man diay kay Pantawid Pamilya man diay ko," said Marilyn. (I realized then that they were all free because I am a Pantawid Pamilya beneficiary).
In turn, Victor and Marilyn were told by the attending nurse That they can start packing their things and go home.
"Wala jud ko nagtuo nga libre diay to tanan," told Victor. (I never thought that it's all free.)
Thanks DSWD
Victor is diagnosed to have cerebrovascular disease, hemorrhage, right lentiform nucleus, and hypertensive cardiovascular disease after the stroke according to the medical certificate.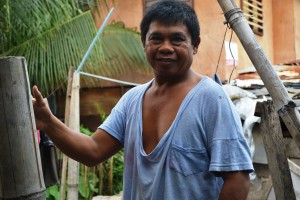 "Galibog jud ko og asa ko og ibayad dihang na-hospital ko last June," said Victor. (I was confused where to get money to pay when I was hospitalized).
In 2012, DSWD and PhilHealth partnered to provide health care for the poor.  Some 14.7 million indigent individuals aged 21 and above identified through the DSWD's Listahanan database of the poor are now Philhealth card holders.  Of the total, 3.9 million, Pantawid Pamilya beneficiaries are enrolled under the Philhealth program, as of March 2014.
Pantawid Pamilya beneficiaries are afforded with PhilHealth coverage as Sponsored Members.
"Nagpasalamat jud ko og dako kay dako kaayong tabang nako ang DSWD, ang Pantawid ug ang PhilHealth," said Victor. (I thank DSWD, Pantawid, and PhilHealth so much for the great help to me).
Because Victor is sickly, he is dependent to the income of her wife from massage.
Being a low income earner, Victor was reluctant to be admitted to the hospital since he knew he could not afford to pay for the hospital bill, let alone for the medicines and medical processess that costs far more than what his family earns.
But, his wife Marilyn insisted at that time that someone told her that Pantawid Pamilya beneficiaries can avail of Philhealth benefits.
Marilyn only presented her Pantawid Pamilya identification card to the hospital's admission office.
Now, Victor is doing daily exercise to immediately recuperate from the stroke. He is helped by his wife Marilyn and their son during the routine.
DSWD is also on the process of helping Victor defray the cost of his daily drug maintenance through its Assistance to Individual in Crisis Situation.
Today, there are 283,150 Pantawid Pamilya beneficiaries in Northern Mindanao. These families are identified through Listahanan, a system that generated data of poorest households in the country in 2009.
Written by Oliver Badel Inodeo, DSWD Northern Mindanao.
==