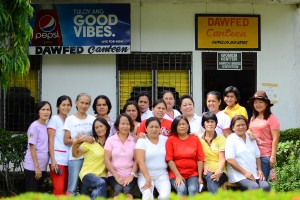 Bukidnon — "I remember selling piglets just to raise funds for our group, but now we do not have to worry about funds anymore because we have learned how to manage our income and sustain our business," says Mrs. Nelly Tabanao, a member of the Damulog Women's Federation here.
Damulog Women's Federation (DAWFED) is composed of 25 women from various people's organizations from the municipality of Damulog, Bukidnon, organized to provide support to community empowerment and social awareness.
Having less financial opportunities, the association initially imposed a monthly contribution of P50.00 to the members and used the raise funds to buy piglets and some amount for lending giving 5% monthly interest. The association took off and continue running its business.
Because they saw the need of a much bigger financial assistance to sustain their venture, Nelly, the president of the DAWFED, approached the Municipal Social Welfare and Development Office to seek for additional support.
The program intervention
In 2009, the Department of Social Welfare and Development's Sustainable Livelihood Program, then called as SEA-K or Self-Employment Assistance – Kaunlaran, enhanced the DAWFED with business management training and provision of capital assistance amounting to P140,000.00 which was payable within two years. Through social preparation activities, the group identified Canteen and Catering Services as their project for SEA-K.
The Local Government Unit also supported the group project by donating a space for their canteen and a monetary donation of P9,500 for their initial operational expenses. Apart from the processing of business registration and other credentials necessary for starting a business.
In addition to their food business, they also invested their capital to create a Multi-Purpose Cooperative as a financial institution.
The gains and more
After a year, the association paid their dues to DSWD and continued its business operations based on their revenues. Since then, they have been catering to employees of the municipality and abruptly increased their cooperative members.
"As the leader of the group, I am grateful for DSWD for assisting me to improve my capacities and for believing us that we can do better," Nelly shares. "Kaya gyud diay namo ang kabag-ohan."
Because of their effective management, the association has been recognized as the Outstanding Womenpreneur and Best Performing Women Organization in the province of Bukidnon and a nominee for "Most Outstanding Organization" in Mindanao.
To date, the association is still in operation and growing.
Written by Jamila M. Taha, DSWD