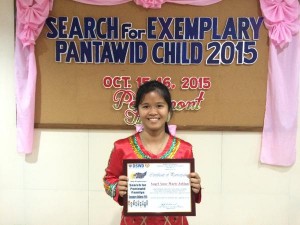 Cagayan de Oro City — A working student has been hailed as the Exemplary Pantawid Pamilya Child 2015 of Northern Mindanao here.
Angel Anne Marie Jabian, 14 of Purok 2, Mitazan, Aloran, Misamis Occidental, bested other four provincial representatives during the two-day search here recently.
A daughter of a farmer, Angel disclosed that the income of her parents is not sufficient to support her daily fare in going to her school, Aloran Trade High School, from her house, that's why she volunteered herself to become a working student to one of her relatives living near the school.
Angel's residence is relatively far from the school and she would spend P30 a day for her fare before.
But, Angel is quick to add that she managed to balance her studies and household chores.
A consistent Top 1 pupil from Grade 1 to Grade 6 during her elementary formation; Angel has never been absent from school despite her obligations as a working student.
"I persevere to achieve my dreams and to become successful in the future," Angel said during her first radio interview in a local station here.
Good example to others
When asked about her passion, Angel disclosed that she wants to become good example to others. "I want to be different from others in a good way because I know, I am unique. I want to become a good example to others," Angel said.
Serving as the newly ambassador of children's rights in Northern Mindanao, Angel is overwhelmed by the support from her family, school administrators, local government unit, and other stakeholders of Pantawid Pamilyang Pilipino Program in Misamis Occidental.
"It's worth the hardwork and diligence that I have invested. I owed back this to Pantawid Pamilya, my mentors, my family, my friends and to my God," Angel said, adding that she is a proud beneficiary of Pantawid Pamilya.
Changes in life
Everday, Angel's father, Rey, will visit and cultivate the family's ricefields while her mother Mariter will take care of her and her elder sister.
Either under the heat of the scorching heat of the sun or under a heavy downpour, Angel's father has to work hard to support the family's need.
"Honestly, every afternoon when I got home from school in my elementary years, I can see from my naked eyes that my father is really tired from work. I felt guilty of it," shared Angel during the radio interview.
"Sad to say, his income is not enough for my needs. At that moment, I was losing hope to finish my studies. Until such time when we became a beneficiary of Pantawid Pamilya," added the teary-eyed Angel.
Angel's family became benefiary of the program in 2011.
"Pantawid Pamilya is a great help to my family. I can already buy the materials and supplies needed for my projects on time. Because of Pantawid Pamilya, I achieved good grades and I maintain my top post,"said Angel.
Aside from that, Angel told us that, "Pantawid helped educate my parents and other beneficiaries in terms of livelihood, halth and wellness, education for children and many others."
As it is, "I am always been grateful to DSWD and all other government agencies which helped us fight poverty."
Meanwhile, Rosa Bianca Galos of Mambajao, Camiguin and Regine Dablo of Lagonglong, Misamis Oriental have earned the second and third spots, respectively.
The contender were judged based on their behavior and practice, talent, intelligence and wit, community and school participation, and Kaya Koa ng Pagbabago (I am capable of change) presence and appearance.
The search is conducted to recognize the children beneficiaries of the program who set examples at home, in school, and in their community.
It is one of the strategies of Pantawid Pamilya to encourage the children to nurture habits and values that would mold them to good and active citizens.
Written by Oliver B. Inodeo, DSWD