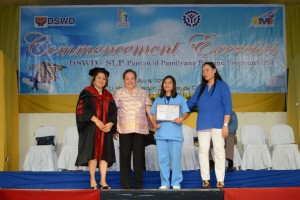 Misamis Oriental — The Department of Social Welfare and Development provides social protection programs to 2,059 PantawidPamilya Beneficiaries in the municipality of Medina, this province. This year, through the Sustainable Livelihood Program (SLP), Technical Education Skills and Development Authority (TESDA) and Skills Mastery Institute, a group of beneficiaries were trained with Massage Therapy NC II specializing in "Swedish Massage."
One of the recipients of massage training is Aida A. Papel, a person with disability (PWD) and a Pantawid Pamilya beneficiary of Barangay Pahindong. She is a mother of two.
According to Aida, with their qualifications and certificates, livelihood opportunities are open for grasp. "My disability never hinders my will to support my family. Prior to SLP, I have been earning less through traditional "Hilot" and selling herbal products", she says. "Now, I am earning P300.00 to 600.00 pesos a week as part time massage therapist to Duka Bay Resort in Medina along with my other colleagues who are also beneficiaries," she added.
The group has also established their very own massage clinic through the support of the Local Government Unit of Medina. They operate and manage the clinic located at the heart of town six days a week . The resort has also been very generous and committed to employ the trained beneficiaries in support to their program goals.
To date, their business is vastly growing and they have recently earned a nomination to the Bangon Kabuhayan 2015 of the department as Best Employment Model.
Written by Jamila M. Taha, DSWD