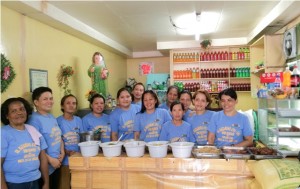 Cagayan de Oro City — The city's fast growing economy particularly in the food industry, inspires our Pantawid women association to come together and set up their very own food business. Geared with the necessary skills and attitude, the Sr. Nazareno 4Ps Association, actively participated to all program activities of the Department of Social Welfare and Development through the Sustainable Livelihood Program (SLP).
In 2014, this group composed of 26 women, joined the Basic Micro-enterprise Management Training and Entrepreneurship, wherein participants are given basic management training, financial management and processes to achieve their entrepreneurial goals. The program provided them with the necessary capital fund to realize their business goals.
The women's eatery serves basic "lutong-bahay" (homemade) foods, desserts, and even expand their venture to rice retailing. The business is inevitably growing since they are planning to build another branch within the city.
According to Ms. Jocel Cabanay, the association's president, the secret to their success is cooperation and trust. "Our business success is a shared effort among all of us, we make sure that we maintain transparency and remain responsible to our duties as members of the group", she added. "We want to prove to our trainers that we have learned from them, and that we can make our lives better", she emphasized. "Nalipay gyud kami tungod ky kani among negosyo dagko gyud ang natabang sa among mga pamilya ug panghinanglanon", she said.
After more than a year of operations, the women's eatery has been making themselves known. They have offered their services to DSWD several times, one of which was during the Secretary's visit to the region where the group served their food to more than 300 people. To this date, the office calls for their services whenever there are events to be held within the city.
The group accepts orders and catering services. You can personally visit Sr. Nazareno 4P's Delicious Eatery at Julio Pacana Street, Barangay 26, Licoan, Cagayan de Oro City.
Written by Jamila M. Taha, DSWD