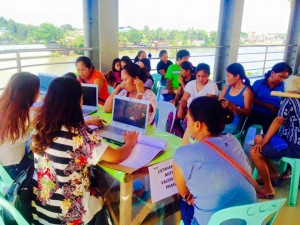 Looking  at the throng of people patiently waiting for their turn  to lodge on their complaints, one can feel that  people in the communities  are receptive to change and the initiatives  of  the government to reduce poverty .
In the city of  Cagayan de Oro, since the first day of posting of the Listahanan initial list of poor households in the  barangays,  residents started  to herd  to the City Hall to  file their complaints.
Through the Department of Social Welfare and Development's Listahanan , household assessments were conducted last June of this year  in which , 72,000 households were assessed leaving some 30,000 households to be assessed during the validation phase.
With the support  of the  Local Government Unit, massive advocacy efforts  have been done to  inform the public on the importance of the validation as well as on the process  involved  in the  conduct of the  validation.
A designated area was also  alloted  by the City Government in order for  the  Area Supervisors to receive complaints  orderly .
Barangay officials were  also very active in initiating rekorida  to inform their barangay constituents  on the schedule and venue  where  they can  file their complaints.
Complaints ranged from those  poor households who were not included in the list , those who should not be included in the list, correction of spelling, or incorrect data in their Family Assessment Forms.
Those who filed complaints were requested to bring proofs to be attached to their complaint forms which includes birth certificates, Certification from their respective barangay Captains, Marriage certificate, valid IDs, among others, depending on the nature of their complaints.  Collateral interviews were also conducted.
Resolution of complaints are done with the support of the Local Verification Committees organized by the local Government Unit.
For  Adela Pragamac,  a Sendong surivivor,  the posting of the initial list of poor households gives  them hope that in the near future, they will benefit from various social protection programs of  the  government  .
To be given the chance to file a complaint according to Eleanor Loretero, a resident of Carmen, is also a way for the government to have  a clear, definite,and accurate  listing of  who really needs the most  of the programs and services.
"Mao pagkadungog namo sa radyo nga puwede mi magreklamo kabahin sa listahan nga gipaskin sa barangay, nianhi dayon mi diri sa City Hall" (That is why when we heard on radio that we can file complaints on the list posted in our barangay, we immediately proceeded here at the City Hall)  , quips Eleanor.
Listahanan  is an information management system that the government uses in identifying who and where the poor households are.  It serves as the  basis  for the Department and its partner Agencies as well as Civil Society Organizations ,in  identifying potential beneficiaries for their various social protection programs  and services.
The Second Round household assessments was  conducted nationwide last June of this year with 791, 222 households assessed in Northern Mindanao  .
Written by Mitzie S. Santiago, DSWD