Cagayan de Oro City — All DSWD Personnel of DSWD Field Office 10 are one in recognizing that all Pantawid Pamilya beneficiaries are free to decide, choose, and express their beliefs and rights on issues concerning their lives and their communities.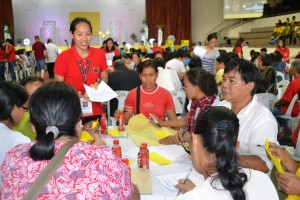 DSWD only acts as facilitators on how their voices will be amplified and be heard and be converted into action.
This coming local and national elections, Pantawid Pamilyang Pilipino Program (Pantawid Pamilya) promotes empowerment of the beneficiaries on active citizenry.
Newly installed Regional Director of DSWD Nestor B. Ramos said Pantawid Pamilya promotes the beneficiaries' rights to participate in the electoral processes, especially, in the coming national elections.
During the monthly Family Development Sessions, beneficiaries are enlightened with their critical role in choosing candidates through the active citizenship module.
While the prohibition against partisan political activity prevents DSWD personnel from endorsing candidates and political parties, DSWD personnel may still espouse particular principles on good governance, policies on inclusive growth, poverty reduction or on programs like Pantawid Pamilya.
On a related note, the DSWD has vigilantly implemented its Anti-EPAL Campaign to prevent candidates and potitical parties from using DSWD programs and projects for their own purposes.
However, this does not mean that the DSWD should hinder the beneficiaries of its programs and projects from participating in the political process. Beneficiaries have the right to support, campaign for, and vote for the candidates and political parties they believe in, as long as they do not do so during official DSWD activities and do not use DSWD resources.
For her part, Kenneth Haze Sanchez, Regional Program Coordinator of Pantawid Pamilya, disclosed that she has been monitoring all activities of the program throughout the region in order to put all systems in place in maintaining the non-partisanship of the program and its workers.
Sanchez urged beneficiaries and non-beneficiaries of the program to report to the regional office of DSWD, along Masterson Avenue, Carmen in this city any political party or candidate, individual or Pantawid Pamilya worker violating the prohibited acts of The Omnibus Election Code which include, but not limited to the following: during the Election Period, persons (including DSWD personnel) may not, whether directly or indirectly, solicit and/or accept any gift, food, transportation, contribution or donation, whither in cash or in kind, from candidates or their representatives; during the 45-day period before Election Day, DSWD personnel may not release, disburse and/or expend public funds – except for salaries and other normal and routine expenses. However, please note that in past elections, the COMELEC has categorized expenses for ongoing DSWD programs, projects and activities as "normal and routine."; during the 45-day period before Election Day, candidates and their relatives may not, whether directly or indirectly, participate in distributing relief goods to victims of calamities or disasters; during the 45-day period before Election Day, heads of agencies and offices may not hire new employees or create or fill new positions – unless with the prior approval of the COMELEC – or promote or increase the remuneration of any employee.
Also, Sanchez emphasized that only the DSWD can delist a beneficiary if he or she is not following the conditionalities of the program and that only the DSWD has the authority to de-list beneficiaries if the latter do not comply their co-responsibilities with Pantawid Pamilya.
Pantawid Pamilyang Pilipino Program is a social protection measure of the Philippine government that focuses on human capital investment to the poor households in the country. It is a developmental program that uses conditional cash transfers to poor households based on their compliance with verifiable conditions that have been identified and agreed upon by the beneficiaries.
The DSWD implements the Pantawid Pamilya, one of the key poverty alleviation programs of the national government. It seeks to contribute in breaking the intergenerational transmission of poverty in the country. It is anchored on the Social Welfare Reform Agenda of the DSWD through the National Sector Support on Social Welfare and Development Reform Project (NSS-SWDRP).
Pantawid Pamilya also embodies the vision, mission, and mandate of DSWD, and reinforces DSWD's role as the lead agency in championing social welfare and development.
==
Written by Oliver Badel Inodeo, DSWD