Camiguin — A beneficiary of Pantawid Pamilyang Pilipino Program (Pantawid Pamilya) is now a part time teacher of the state-run college in this province.
Maria Melina Rodriguez, 30 of Sitio Tapon, Poblacion, Mambajao here handles Science subjects of Camiguin Polytechnic State College.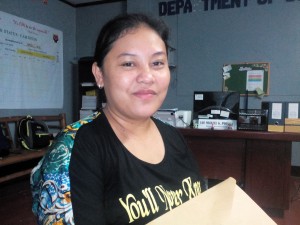 Rodriguez, who has three children, claimed she was unemployed when she and her family where placed under Pantawid Pamilya under Set 7 implementation.
Demolished
Rodriguez used to live in Sitio Balintawak, Poblacion, Mamabajao town. But, in 2004, her house was one of those demolished that drove them away to Sitio Tapon.
At first, she rented a house. Later, she built her own house near to her parents.
As a beneficiary, she learned from the Family Development Session the importance of preparing for the brighter future of her children.
As it is, Rodriguez claimed she exerted more efforts to find a job.
"I was not really concerned before that, but, because of the FDS, I learned the importance of providing their needs, aside from maintaining good relationship with them," Rodriguez said.
The FDS is a monthly session where the partner-beneficiaries of the Pantawid Pamilya are required to attend as part of their co-responsibilities. Through the FDS, parent/s or guardians are educated about personality development which includes proper grooming and hygiene; strengthening family relationships; and fostering respect by inculcating one's rights, roles, and responsibilities within the family and their community. Parents also discuss disaster preparedness, financial literacy, and other topics that may be helpful to the family.
More opportunities
Rodriguez passed the LET examination in 2008 before she became a beneficiary of the program.
Knowing her low self-esteem, Rodriguez decided not to apply at the Department of Education. She focused on rearing her children after her marriage in 2004.
Also, she was closely engaged with activities in her community and availed of the programs and services of DSWD and other national government agencies.
Rodriguez enrolled and finished Front Office Services NC II and Cookery NC II in 2010 at the TESDA-accredited technical institution, Camiguin School of Arts and Trade in 2010.
The free vocational course, she said, had been instrumental in developing her self-confidence.
Through the Sustainbale Livelihood Program, she claimed she was able to hone her skills.
"SLP and Pantawid were a blessing to me. Imagine, I had nothing at first. Now, I survived my family alone because of these programs," said Rodriguez, who was surviving her children alone until recently when she found her new partner.
"More than the financial help, the program has improved my knowledge and capacitated me to fully develop my potentials through the trainings I attended," she added.
Health benefits
Rodriguez recalled that bringing her children to the hospital for medication had been a nightmare to her because of the hospital bill and cost of medicines.
Now, she is not afraid of bringing her children to the hospital because it's free.
"I feel we are loved by the government because of the zero billing policy," she said in vernacular.
Rodriguez hoped that beneficiaries like her will religiously follow their co-responsibilities of the program.
Pantawid Pamilya is a human development program that invests in the health and education of poor households' primary of children aged 0-18. It utilizes the conditional cash transfer scheme where the partner-beneficiaries receive their grants provided that they fulfill their co-responsibilities, including sending their children to school, availing of health services, and attending the monthly FDS.
==
Written by Oliver Badel Inodeo, DSWD